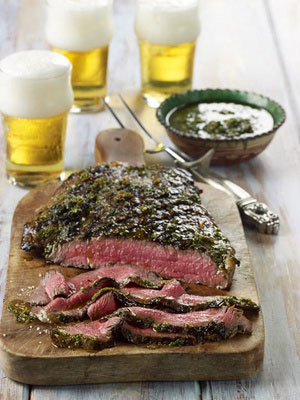 For a tasty, cool treat on a hot summer night, serve a glass of cold beer alongside a dish that uses the same beer as an ingredient. Whether you prefer your food hot off the grill or refreshingly chilled, use your favorite style of beer to add a special flavor to the recipe.
From the National Beer Wholesalers Association, here are two delicious summer entrée recipes that feature popular styles of beer.
Grilled Flank Steak with Lager Beer Chimichurri is the perfect recipe for your next outdoor barbeque. The fruity, crisp Lager Beer forms the basis of a rich chimichurri sauce, an Argentinean specialty that works particularly well with grilled beef. Start by boiling the beer together with whole cumin seeds, until the liquid is reduced and thickened. Combine cilantro, parsley, garlic and red pepper flakes in a food processor, and pulse together with the beer mixture. Stir in shredded carrots for added sweetness. Brush the sauce over a flank steak and allow to marinate before grilling. When ready to serve, slice the meat and top with additional chimichurri. Baked or boiled potatoes, a green summer salad and tall glasses of a cold Lager Beer complete the meal.
Cool off with Wheat Beer Salmon with Cucumber Salad, served at room temperature or refrigerator-chilled. Start by making a refreshing cucumber salad by combining plain yogurt, rice vinegar, dill and thin slices of cucumber. Cook the salmon by poaching in a mixture of Wheat Beer, dill and sliced shallot. After the salmon is done, remove the fish from the pan and boil the poaching liquid to reduce. Combine with Dijon mustard and rice wine vinegar. Serve as a sauce over the salmon, alongside the cucumber salad, steamed carrots and brown rice for a healthy, low-calorie and refreshing meal. Pour cold glasses of Wheat Beer to complement.
There are nearly 13,000 labels of beer available to persons of legal drinking age today. America's beer distributors are proud to serve as the vehicle to market for this unparalleled variety of beer that provides excitement to consumers – whether they are using it as a cooking ingredient or enjoying as a beverage.
To learn more about the important role of America's beer distributors, visit www.americasbeerdistributors.com.
Grilled Flank Steak with Lager Beer Chimichurri
6 servings
1 bottle (12 oz) Lager Beer
1 ½ tsps cumin seeds
2 cups cilantro leaves
1 cup Italian parsley leaves
3 cloves garlic
1 tsp crushed red pepper flakes
1 tsp sugar
1/3 cup extra-virgin olive oil
3 TBLS red wine vinegar
½ cup finely shredded carrot (about 2 carrots)
¾ tsp salt
1 ½ pound flank steak
In deep 3-quart saucepan, combine Lager Beer and cumin seeds; bring to a boil. Cook until beer is reduced to about 1/3 cup, about 10 minutes. Remove mixture from heat and cool to room temperature. Transfer to medium bowl and set aside.
In bowl of food processor, combine cilantro, parsley leaves, garlic, red pepper flakes and sugar. Pulse together until mixture resembles a coarse paste. Scrape mixture into beer sauce; add oil, vinegar, shredded carrot and salt. Stir well until sauce comes together. Let stand at room temperature one hour to allow flavors to develop. Can be refrigerated up to one week.
Place steak on a plate and brush both sides, using ¼ cup of the chimichurri sauce. Let marinate at least two hours and up to six hours.
Prepare an outdoor grill with a medium-hot fire, or preheat a stove-top grill pan. Grill steak 7 to 9 minutes per side for medium rare doneness. Remove steak, place on a cutting board and loosely tent with foil. Let rest for 10 minutes. Thinly slice across the grain, and serve with the additional chimichurri sauce.
Nutrition Information, Per Serving:
330 calories; 20 g fat; 5 g saturated fat; 6 g carbohydrate; 1 g fiber; 1 g sugars; 25 g protein
Wheat Beer Salmon with Cucumber Salad
4 servings
Cucumber Salad:
2 TBLS plain yogurt
1 ½ TBLS seasoned rice vinegar
2 TBLS fresh dill
¼ tsp salt
¼ tsp black pepper
1 cucumber (medium-size), peeled and thinly sliced
1 bottle (12 oz) Wheat Beer
4 sprigs fresh dill
1 shallot, sliced
4 fillets (5 oz each) salmon, about ¾ inch thick
2 tsps whole grain Dijon mustard
1 tsp seasoned rice vinegar
2 TBLS plain yogurt
¼ tsp black pepper
Make cucumber salad by combining in medium bowl the yogurt, rice vinegar, fresh dill, salt and pepper. Stir well to combine. Add cucumber slices and toss to coat.
In large deep skillet, combine Wheat Beer, dill sprigs and shallot; bring to a simmer over medium heat and cook 2 minutes. Add salmon fillets to the simmering mixture. Cover skillet, reduce heat to low and poach until just barely opaque in thickest parts, about six minutes. Carefully remove fillets to a plate.
Using a slotted spoon, discard dill and shallot from poaching liquid. Bring liquid to a boil. Boil until mixture has reduced to about 1/3 cup, or about 4 minutes. Whisk in the mustard and vinegar until blended. Remove from heat; whisk in yogurt and pepper. Transfer salmon to serving plates and spoon mustard sauce over each fillet. Serve with cucumber salad.
Nutrition Information, Per Serving:
360 calories; 19 g fat; 4.5 g saturated fat; 8 g carbohydrate; 0 g fiber; 3 g sugars; 31 g protein