Village East's creative cocktail is the perfect start to a hectic day dashing through the snow (or not) to gather elusive gifts that are conveniently stocked exclusively at stores scattered all over town. Better make it a strong one… Merry Christmas.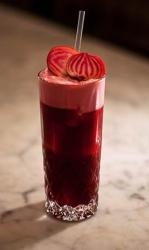 Beetroot Mary
Ingredients:
50ml Stolichnaya vodka or Sipsmith Gin
10ml lemon juice
10ml Worcester sauce
2ml Tabasco sauce
pinch black (volcanic) salt
pinch freshly-ground black pepper
100ml fresh beetroot juice
Method:
Put all ingredients into a shaker with ice cubes and shake to combine well.
Strain into a chilled highball glass.
Glug, and get going.