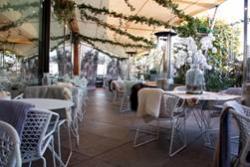 Go all'Carry on Christmas' with'Lodge d'Argent', the delightfully OTT chalet-themed bar from Coq d'Argent. On the menu are all sorts of après-ski snacks and suppers that are cheesy in all the right ways – tartiflette and fondue, whilst hot cups and cocktails like snowballs and brandy Alexanders are just as retro.
Should you need an excuse to use the fruity phrase'rum, bum and gingerbread', Floridita has a Hot Rum Bar serving up all sorts of spirited, Cuban-inspired decoctions over Christmas. Combine the hearty half-dozen with hurricane lamps and snuggly blankets, and you'll be toastier than a chestnut roasting on an open fire.
Cinnamons of all sorts – Club, Kitchen, and Soho, are spicing up festive revelry. For a right posh Chrimbo dinner, Cinnamon Club has a menu you won't want to miss. Cinnamon Kitchen's all about creative cocktails at the Anise bar, whilst Soho's the place to go for a party and plenty of sensational small bites.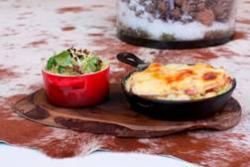 You won't get bored of the riverside views from The Founders Arms, or of picking at the bits on the buffet boards – almost artistic enough to hang up in the Tate Modern next door. Over in Primrose Hill, The Engineer's tinkered with super seasonal produce for its festive feasts.
Head to The White Horse in Parsons Green on 19th December and you'll be singing for your supper at the pub's carol evening. Real ale aficionadoes, meanwhile, might fancy trying to drink the bar dry at The Earl Derby, which rather racily promises to'knock your stockings off'!
Plenty of people pop to a pub on Christmas Day, so why not stay for lunch? The Windsor Castle and The Spaniard's Inn both offer atmospheres historical enough to soak up all the booze, along with some pretty fine fodder that'll make you glad you stepped away from the stove.
If you tend to feel more stuffed than the turkey following a cracking Christmas dinner, The Brook Green Hotel is a venue that offers a  most welcome combo – brilliant British boozer with boutique bedrooms.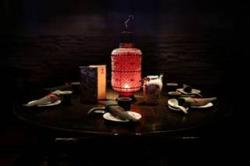 It's likely you'll be immobile after imbibing Alyn Williams' 9-course lunch, so better be safe and book yourself a bed at the wonderfully swish Westbury Hotel. A room with a view? Dine at the DoubleTree Hilton's Skylounge for 12th floor views over the city, or scale the dizzy heights of the Shard for excellent oriental eats at Hutong on the 33rd floor. You might even spot Santa's sleigh zooming by as you imbibe…