Christmas is a time of sublime excess bordering on the ridiculous. No matter how many mince pies you munch, or if you go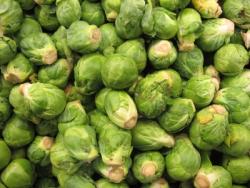 back for seconds, thirds and fourths of festive fare til you bust your belt, you still end up binning more than you bargained for.
And the statistics stick in your throat like a particularly dry turkeybird – two million of which get thrown out. The bitter truth on Christmas food waste isn't sweetened much when it comes to dessert, either – 5 million puds and 74 million mince pies fill bins, not bellies.
Throughout the year, we glib gourmets throw away almost half the food we buy to eat, and the supermarkets are almost as bad. The waste seems extra senseless when so many are turning to food banks. These families aren't dining on the festive feast of their dreams, but whatever's donated.
These people simply can't afford for their eyes to be bigger than their bellies. But if you can, 2013 is the year to keep those eyes off the pies and instead take a good hard look at your Christmas consumption. Whilst no-one's suggesting you forget family favourites, perhaps you could forego fifty shades of gravy on the table.
Granted, it ain't easy being mean at Christmas. Parsimony is considerably less desirable then parsnips. There's'owt worse than seeing somewhat sob that dinner's been ruined because it's devoid of some delicacy they can't do without. But then again, it'd be far worse to have nothing at all. And that's just what might happen if we continue to waste food willy-nilly.
So what can you do to please the masses without chucking masses away? Planning is key; prepare shopping lists, dishes and leftover recipes aplenty. It might feel militant, but a bit of foresight with festive food arrangements should actually meter the madness of Christmas somewhat – and leave you with a little more cash to splash on presents and partying.
Unless you're planning to fly around the world dropping gifts galore to deserving children, your calorie need probably won't increase massively over Christmas. And, indeed, if YOU don't want to increase massively before the New Year, you'd do well to exercise a little portion control. Trim your turkey – the average family of 4 really only needs under 500g of off-the-bone meat.
While we're at it, do you and yours even LIKE turkey? Don't stick to tradition for tradition's sake if your lot would like sea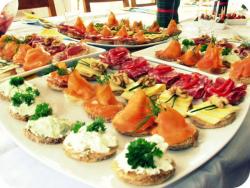 bass, beef or belly pork instead. If you're fairly sure the bowlful of Brussels will eye you balefully before being binned, just don't buy'em. Would you choose something you hated for lunch on any other day? No? So why on earth would you when you're celebrating?
Speaking of celebrations, canapés might be many people's idea of hell, but they're also a key part of most Christmas parties. Stick to tried-and-tested favourites, and to the rule of 10 pieces per guest for an event lasting 3-4 hours. If you want to be more generous, serve morsels you'll be made up to munch yourself if they're left over.
Leftovers from dinner proper, meanwhile, are usually enough for a buffet by themselves. Come Boxing Day, everyone's ready to go again, and so will you be… provided you store everything safely when you finish Christmas lunch. Get things packed up and put away as soon as possible, keeping a keen eye on fridge temperatures which can rise in response to a heavy load.
Loads of people feel a bit funny after eating poorly-stored leftovers. Avoid an unnecessary loo queue by cooling food within 2 hours, getting it into that fridge, and using it within two days. If you suspect that's unlikely, freeze! Literally – step away from the bin and get it frozen; most foods are suitable, and retain their eating qualities for a good 3 months.  
Whilst you should never gamble with food safety and your health, don't be stupidly strict with'Best Before' dates. These refer solely to the perceived timeframe when the food supposedly has the optimal eating qualities; but when it comes to that under-ripe block of Brie, you'd probably disagree. As long as you're not exceeding the'Use By' date, simply use sensible judgement.
You might judge the Boxing Day turkey sarnie the king of leftovers, but there's more to thrifty cooking than lettuce, mayo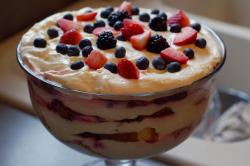 and sliced white. The bird's carcass can be boiled for stock, which you can whizz up with leftover veggies to make a great soup. Bubble and squeak is a brilliant culinary dumping ground for anything and everything; and, when it comes to sweet bits, there's not much you can't bung in a trifle or fridge cake.
Don't be super-Scroogey. After all, it's a festival, and that means a feast. But it needn't be one of Bacchanalian proportions. Christmas can be about spirit without a bottle of every last liquor; or a table teeming with dubious delicacies. Keep it real – don't take more turkey that you can gobble; or serve more sausages in blankets than you can pig. Moderation in all things; including merriment.  
For more tips on avoiding food waste both at Christmas and throughout the year, visit www.lovefoodhatewaste.com