35 Earlham Street, Covent Garden, WC2H 9LD  www.esclubhouse.com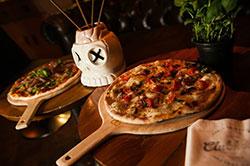 Just in time for the annual festival of excess that is the festive season, Covent Garden has welcomed a new American themed bar and pizza joint: the Earlham Street Clubhouse (ESC) on Earlham Street (!), just off Seven Dials.
This part of town used to be a complete desert for a person of taste and Belgos for Belgian beers and moules frites served by men in Monk's habits used to be the only option. Nowadays though, Belgos has gone the way of Belgian political unity and Earlham Street now has anther offering to add to the recently opened Flesh and Buns.
Apparently, the ESC has been themed on an American East Coast prepster hangout. Evidently, it is difficult to conjure up Martha's Vineyard or Long Island in a Central London basement, but they have done their best, with plenty of Americana on show and a soundtrack straight from American Pie and Ferris Bueller's Day Off. On opening night they had even managed to get the waitresses to do the whole Catholic schoolgirl thing (see Aerosmith's video for Crazy if you require further clarification!), as they handed round cocktails.  
The cocktails all slipped down easily enough; although on the evening I was they were serving Swiss beer alongside the Clubhouse Lagerita, Stifler's Mom and College Rules. With an encyclopedia of US craft beer available in every other bar these days, there's not much excuse for turning to our Swiss friends for beer in an American themed bar.
In any case, that disappointment was made up for by some really good, New York style thin crust pizza. Of these the Fresh Prince (yes, even the pizzas have dodgy names) was the best and any chef who knows to put ricotta, scamorza, fennel sausage and wild mushrooms on a pizza gets my vote.
If I were still earning my daily bread in the locale, I'd definitely head back to the ESC. The cocktails start at £7, a slice of pizza is £3.50, some of the tables have their own beer tap and if you ask nicely they'll let you play a game of shot twister! In any case, a bar that encourages me to live out my American Pie, Steve Stifler style fantasies gets my vote!