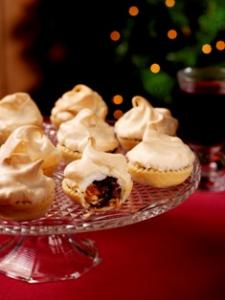 Preparation time: 1 hour
Cooking time: 30 minutes, Makes: Approx 24
Ingredients:
Mincemeat:
500g cooking apples
120ml bottlegreen Cox's Apple and Plum Cordial
500g mixed dried fruit
75g dried cranberries
1tsp ground cinnamon
200g dark soft brown sugar
100g whole blanched almonds
100g vegetable suet
For the mince pies:
500g prepared shortcrust pastry
2 egg whites
100g caster sugar
Method:
1. Place the brown sugar and cordial in a large saucepan, dissolve over a low heat. Peel and grate the apple, add to the saucepan with the suet, mixed dried fruit, cinnamon and the coarsely chopped almonds. Mix together, cook over a gentle heat for 20 minutes, stirring often, cool. Pack in a sterilised jar and store in the fridge for up to a week.
2. To make the mince pies pre-heat oven to 180c, 350f, gas mark 4. Roll out the pastry to approx 3mm thick on a lightly floured work surface, using a 6cm round cutter cut circles of pastry and use to line patty tins. Place two teaspoons of the mincemeat into the centre of each pie.
3. Whisk the egg whites until stiff, fold in the caster sugar. Top the mince pies with spoonfuls of meringue, swirling the tops.
4. Place in the oven and cook for approx 20-25 minutes, reduce the heat after 10 minutes if the meringue starts to brown too quickly. Cool a little, carefully remove from the tins and serve with brandy butter.