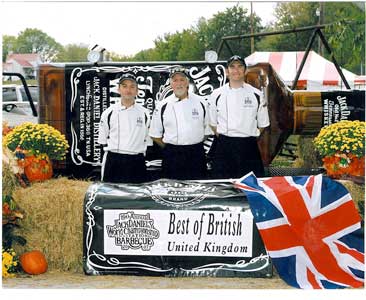 As Britain prepares itself for a heat-wave, the courageous lads of the Best of British BBQ team are flying the flag across the pond at three key contests this year. Here are some of their recipes guaranteed to be winners in your house.
First is the I Love Barbecue Festival in July held at Lake Placid, NY. Mark Grimmette twice Olympic Luge medalist heard the team were competing and has kindly loaned a Char-Griller Smoker BBQ to the team for the contest. Then the lads drive up to Canada for the Annual Canadian BBQ Championships in Barrie.
In October the team is off to Lynchburg, Tennessee for the 21st Jack Daniels Invitational World Championships regarded by barbecue enthusiasts as the BBQ Olympics. Marinating and smoking a range of meat cuts, such as brisket, belly and ribs, as well as chickens and whole hogs. They use a range of slow cooking methods, which can take up to 16 hours, plus aromatic woods to enhance the flavour.
To give them a practice run Terry Laybourne has invited the team to cook a Wild West BBQ at Jesmond Dene House in Newcastle during his week Festival of Food & Wine at the end of May. The menu includes Long Horn Beef Brisket with Horseradish Coleslaw, Free-range Pulled Pork Shoulder and Maple Wood Smoked Salmon with Orange Whisky Sauce. Other chefs cooking during the week include Paul Rankin, Simon Rimmer and Mark Hix.
The team is delighted British Pepper & Spice are Platinum sponsors again this year and the 'Millstone range" features in all their fantastic rubs and glazes.
The team comprises Mathew Shropshall, full time lecturer at Birmingham College of Food, Ben Bartlett, Food Development Manager for Scottish & Newcastle Pub Enterprises and Viv Harvey, Master Butcher and Meat Industry Consultant.
Matthew Shropshall team Captain says, 'The team is now into its 5th year and I am eager to see how our newly developed sauces, rubs and recipes will fair this year".
Last year the team walked away with four accolades at the BBQ at the Summit in Dillon, Colorado (9,156 feet) and are all certified World KCBS Barbecue Judges.
Some great recipes as PDF can be downloaded here