Not many of us couldn't slot in the odd light, crisp, caramelised brandy snap on top of the usual skipload of festive fodder. Just don't get all clever and try and assemble ahead of time- or they, and you, will be reduced to a mere sad, sticky mess.
Cakeadoodledo's Brandy Snaps 
Ingredients: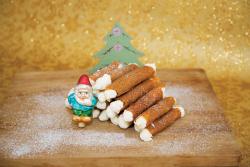 110g unsalted butter
110g caster sugar
4 tbsp golden syrup
110g plain flour, sifted
1 tbsp lemon juice
¼ tsp ground ginger
sunflower oil, for oiling
300ml double cream, softly whipped
Method:
Preheat the oven to 180°C and line two baking sheets with silicone liners.
Put the butter, sugar and syrup in a heavy-based pan and heat gently until everything is melted together.
Take the pan off the heat and stir in the flour, lemon juice and ground ginger. Leave the mixture to cool a little.
Drop large tablespoons of mixture onto the prepared baking sheets, leaving ample room as they will spread during cooking.
Bake in batches for 5-6 minutes until lacy and golden.
Meanwhile, rub a little oil on the handles of as many wooden spoons you have.
When the brandy snaps are still warm and pliable, use a palette knife to lift them one at a time off the baking sheet and onto a wooden spoon handle.
To form, roll the biscuits around the wooden spoon handles and leave until firm. Slide off the spoon.
When you are ready to serve the brandy snaps, fill them with softly whipped cream and eat immediately.
For more information on Cakeadoodledoo, visit www.cakeadoodledo.co.uk