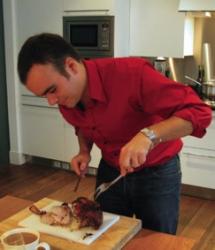 Miguel de Almeida started cooking from a very early age, inspired by the home cooking of his Portuguese paternal grandmother. When he moved to London, he became fascinated by the array of culinary choice and cultural influences of the English capital, which now influence the dishes which he cooks from his own heritage. After studying at Leith's School of Culinary & Wine, he started to host his own gastronomic parties which culminated in the publication of his first cookery book in Portugal. This book draws on his culinary experiences of London.
Caldo Verde is the Portuguese national soup. This velvety, simple and hearty kale soup is eaten during festivities. My grandmother used too cook it when Spring had sprung and we were on our way to Summer, or during 'São João", St John, the night long party in honour of the patron saint of the city of Porto, which coincides with the Summer solstice. She has this traditional circular wheel composed of a sharp blade that she would attach to the kitchen table and shred the kale leaves into fine slivers that resembled sea algae. Then she would cook them in a garlicky broth made with new potatoes that were picked from my grandfather's field. At the end she would add to the broth, slices of a meaty chouriço made of pork loin, spices and wine. As an accompaniment, 'broa de milho' (corn bread) or even 'broa de Avintes" which is a very dense, bittersweet bread made of rye flour and honey, was cut by grandad with his own pen knife. In this version I pan fry the slices of chouriço and add them as a topping to the soup, instead of cooking them in the broth.
---
Caldo Verde
Ingredients (serves 4-6 people)
500g of new potatoes
350g of shredded kale
1 onion
3 garlic cloves
1 litre of water
1 tbsp of vegetable stock (bouillon)
1 tbsp of olive oil
salt & pepper
1 chourizo
Preparation
In a deep pan, boil the potatoes, with the onion and the garlic cloves. When they are soft, reduce everything to a purée. Season with salt & pepper. Add the shredded kale and let it simmer for 20 minutes, always checking if there is enough water. When the kale is cooked add the olive oil and set aside to rest.
Fry the chouriço in slices, on both sides. Serve the soup in bowls with the slices of fried chouriço on top and with some slices of good corn bread.