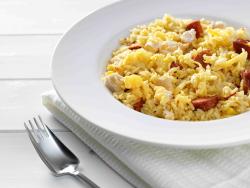 Want a quick and easy way to add a kick of flavour to a traditional dish? Long Clawson Dairy has teamed up with Louisiana's finest, Tabasco®, to create a cheese – Tabasco® Pepper Cheese – that will get your taste buds tingling. Whilst the cheese is great alone, it's even better when used in a recipe – especially Jamabalaya as it complements the spicy chorizo and savoury rice in this traditional Deep South meal. 
Ingredients
1 tbsp olive oil
2 chicken breasts, chopped
1 onion, diced
1 red pepper, thinly sliced
75g chorizo, sliced
250g long grain rice
350ml chicken stock
100g Tabasco® Pepper Cheese, grated
Method
Heat the oil in a large frying pan with a lid and gently fry the chicken breasts until golden (5-10 minutes). Remove and set aside.
Add the onion to the frying pan and cook until soft (3-4 minutes).
Add the red pepper and chorizo and cook for a further 5 minutes.
Add the chicken and the stock to the other ingredients.
Cover and simmer for 20-25 mins until the rice is tender.
Add the grated cheese and heat gently so it melts.
Serve immediately adding extra cheese as a topping if wished.