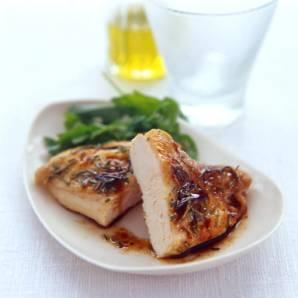 As the weather warms up, rosemary, the wonderful aromatic herb is at its best. So now is the time to chop up a few sprigs and stir into your favourite dishes. Its fresh bittersweet flavour and distinctive woody frangrance make it perfect for giving poultry that extra zing.
Filippo Berio has created the delicious chicken recipe below, combining rosemary and balsamic vinegar. Serve it up with a seasonal salad for a light and tasty dish.
Serves 4, Preparation time: 5 €" 8 minutes, Cooking time: 15 minutes
Ingredients:
4 chicken breasts, skinned and boned
Salt and freshly ground black pepper
4tbsp Filippo Berio Extra Virgin Olive Oil
100ml/4fl.oz dry white wine
1 tbsp. fresh rosemary, chopped
3 tbsp. balsamic vinegar
To garnish:
Seasonal salad
Method:
1. Trim the chicken if necessary. Season well.
2. In a frying pan, heat the oil and sauté the chicken until golden brown. Pour the wine over.
3. Lower the heat and add the rosemary. Cover and cook over a gentle heat for 15 minutes or until cooked and the chicken is tender. Remove the chicken from the pan and keep hot.
4. Reduce the cooking juices by one third then add the vinegar. Season the sauce. Put the chicken onto hot serving plates and pour over the sauce.
CookÂ's Tip:
If using frozen chicken, do make sure it is completely thawed before cooking.