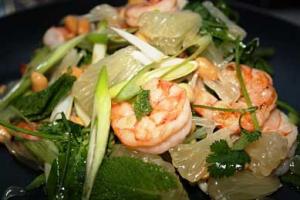 Pomelo is one of my favourite fruits, hailing from Malaysia and Indonesia, it is often used as a refreshing component to salads in the far east. With it juicy and sharp, but not acerbic flesh, its flavour is delicate and sweeter than most citrus and it can be found in supermarkets right now. Paired with crunchy peanuts, juicy prawns and some fragrant herbs, this delicate salad has so many different flavours and textures that work incredibly well together. But posh speak aside, it literally takes minutes to make and that is what makes it so damn appealing. It's fresh and delicious! Perfect for a starter for two, or just a greedy meal for one, with no guilt attached! This dish is so delicious and simple, you won't be able to resist making it. Its a great recipe for all the lazy foodies out there, especially if you are trying to impress someone. Measurements in dishes like this never have to be exact, so don't panic about quantities too much.
Ingredients
250-300g of cold, cooked prawns
1 Pomelo fruit (peeled, pith removed and flesh broken into rough chunks)
5 diagonally sliced spring onions
Generous handful of fresh mint leaves
Generous handful of fresh coriander leave
A couple of generous handfuls of pea shoots (or other salad leaves, but not rocket)
Generous fistful of salted peanuts
Dressing
2 teaspoons of toasted sesame oil
3 tablespoons of light soya sauce
1 tablespoon of rice wine vinegar
2 teaspoons of caster sugar
Method
First, make your dressing and set aside. Then literally place all your ingredients in a bowl and using your hands, toss them a little to ensure that the ingredients are evenly spread out, then pour your dressing onto your salad. Give the salad a good mix, using your hands, ensuring all the leaves and ingredients get a good coating of the dressing.
That's it! Well, it's not exactly rocket science is it? Good food should never have to be!