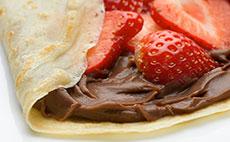 These decadent chocco-strawberry pancakes using Philadelphia Cadbury chocolate cheese will be sure to put a smile on the face of even the most savoury minded individual.
Ingredients:
110 g plain flour
2 medium free range eggs
300 ml semi-skimmed milk
2 tbsp olive oil
180 g strawberries chopped in half to serve
120 g Philadelphia with Cadbury
Method:
1. Whisk together the plain flour, eggs and milk. Let the mixture rest for 30 minutes, or up to 1 hour if you have time.
2. Heat 1 tablespoon olive oil in a shallow frying pan, then pour in 2 tablespoons of the mixture and swirl so it spreads to the edges. Cook for 1 minute before flipping over and cooking on the opposite side for another minute, then remove from the pan.
3. Repeat until all the mixture is used up.
4. Spread each pancake with approximately 15g Philadelphia with Cadbury. Divide the strawberries between the pancakes and fold them over.