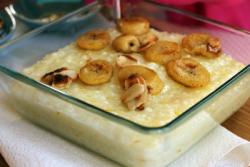 This recipe allows for an unusual taste experience for children and a great way to introduce these through a dessert using tapioca which in it's inherently bland and simple taste, allows you to infuse some exotic flavours. Kids enjoy mixing the saffron and then decorating with fried bananas and almonds – The addition of coconut milk marries well with these and adds natural sweetness, hence lessening the use of much refined sugar.
Makes 2 small bowls or 1 medium bowl
Ingredients:
1 ½ cup uncooked tapioca, cover in cool water, soak for 30 min-1 hour, stirred with a fork every now and then
½ cup caster sugar, or to taste
¾ tin of coconut milk
1 large pinch of saffron
1 cup whole milk / almond milk / soya milk
Water to soak tapioca
Topping:
1 banana, sliced and fried in butter
Handful of flaked almonds, fried in butter
Method:
Heat the milk in a saucepan over medium to low heat and add the soaked tapioca (water should be absorbed, if not chuck it in too). Cook until glutinous and the grains are soft. Add the saffron
Now add coconut milk and mix the pudding constantly now allowing it to stick or thicken too much. Add sugar to taste.
Pour out into glass bowls.
Fry the banana pieces and the almond in butter and once ready decorate the pudding.
Refrigerate for 30 minutes or eat straight away. Keeps for up to 2 days covered in the fridge.