Units 48 and 49, Boxpark, Bethnal Green Road, London E1 6GY www.namo.co.uk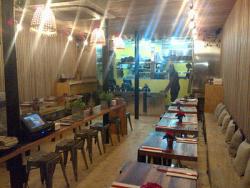 It was a cold, wet, blustery day in Shoreditch, in London's East End, but I felt warm and soothed as soon as I stepped inside Hôp Namô's beautifully custom designed sea container in the brand new Boxpark. Billing itself as the world's first pop up mall (although it will actually be around for five more years), I recommend going to Boxpark – but for the food, rather than the fashion.
Hôp Namô is run by husband and wife Colin and Linh Vu as a deliberate and very successful attempt to bring modern Vietnamese food to an increasingly appreciative audience. 'Vietnamese with a modern twist' is their slogan, although they are keen to emphasise that they fully acknowledge the traditions of their country's cuisine.
Indeed, the name of their very successful sister restaurant, Namô, means 'paying homage'. Colin and Linh opened Namô in Victoria Park in 2005, an operation that very much pays homage to Linh's parents' restaurant. The ever-popular Huong Viet on Englefield Road in Dalston (020 7249 0877) was one of the first to serve traditional Vietnamese food to London's locals.
I had managed to forget my notebook on my visit to Hôp Namô (Hop means 'Box' in Vietnamese), but the waiter sweetly and unblinkingly fetched some paper for me. I had also forgotten my glasses – but luckily the huge print of the pared down menu written on the stainless steel counter was easy enough to read.
The food on offer is very much 'express' – to suit shoppers and workers diving in during their lunch hour or after work. But its no less impressive for that. This is delicious, authentic cuisine that just happens to be served fast. Most dishes – Star Anise Beef Shin with pickled red cabbage, lemongrass free range chicken and caramelised organic salmon with honey and lime glaze – ring in for just a fiver, with soups (Pho, a homemade broth of beansprouts, basil and coriander) or (Hue – spicy noodle soup with lemongrass, garlic and chilli), both served with either rumptail beef, chicken or prawn only costing fractionally more.
A cute blue and white enamel bowl arrived filled with melt in the mouth chilli squid, accompanied by a delicate, papery spring roll filled with richly flavoured five spice duck and pools of dipping sauce. The chargrilled lacquered pork appeared, blackened and glistening, with a simple salad a welcome foil to its lovely intense sweetness while the thick spicy chicken curry with tangs of lemongrass and coconut was more than warming, it was heart-warming.
I blissed out to the chilled out sounds of electronica as the weather raged outside and felt an overwhelming desire to visit Vietnam. I have never been, but was convinced by my experience at Hôp Namô and gentle urging of the owner who says I must go…