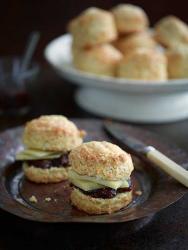 You couldn't get much more British than the scone, but Laura Pope has given them a je ne sais quoi by adding Comté. Top your cheesy Comté scones with a sweet fig and vanilla jam and a slice of Comté for a new spin on the classic afternoon tea stalwart.
Comté is a pressed cooked cheese made from raw cow's milk created in the stunning flowered valleys of the Massif du Jura region, eastern part of France, through a traditional approach that has not changed for centuries. Its versatility and ability to melt easily means it can be added to all kinds of recipes, giving every single one of them a naturally unique flavour.
Makes at least 8 scones.
Come with us to Comté land in the Jura
___________________________________________
For the jam:
750g ripe figs, stalks removed
2 vanilla pods, cut in half vertically and then in three lengthways
500g jam sugar
For the scones:
250g plain flour
2 teaspoons baking powder
½ teaspoon salt
1 teaspoon caster sugar
60g unsalted butter, chilled and diced
100g Comté, grated
1 free range egg, beaten
100ml whole milk
1 free range egg yolk, beaten
___________________________________________
To make your jam: turn the oven to 80°C (60°C fan oven) and put a saucer into the freezer. Wash your jam jars and lids, rinse and dry, then put the jars on their sides into the oven for 10 minutes to sterilise them. Remove the jars and leave them to cool until they are warm, but not scalding hot.
Cut figs into eights and put them with the sugar and vanilla into a large saucepan over a low heat, stirring with a wooden spoon and cooking gently until the sugar has dissolved and the figs are mushy. Turn up the heat and let the jam bubble for about 10 minutes. Test if the jam is at setting point by dropping a small blob on the cold saucer (from the freezer). Leave for a few seconds then push very gently with the tip of your finger – if the surface of the jam wrinkles, it is ready. Remove pan from heat and let it stand for 10 minutes.
Stir to ensure the figs and vanilla pods are evenly distributed, then pour the hot jam into the warm jars (leave the vanilla pods in), immediately screwing a lid onto each jar – the heat will create a tight seal and help preserve the jam for 6-12 months.
To make your scones: preheat the oven to 200°C (180°C fan oven). Mix the flour and baking powder together with a balloon whisk (to break up any lumps and aerate the flour), mix in the salt and sugar and rub in the butter until it resembles fine breadcrumbs. Gently stir in most of the grated Comté(keep a little for the topping later). Beat the egg and milk together, add to the dry ingredients and mix everything together with a cutlery knife and then one hand to bring it all into a dough. Leave it to rest for 10 minutes.
On a lightly floured surface, roll the dough to 3cm thick and cut into circles using a 4cm diameter cutter. Place the scones onto a greased baking tray and rest again for 10 minutes.
Brush the scones with beaten egg yolk and top with the remaining gratedComté.
Bake for about 12 to 15 minutes, then move to a wire rack to cool.
Best eaten freshly baked, buttered, with a slice of Comté and a dollop of fig & vanilla jam.