It's time to discover something new in Clapham. Nik ventures to The King & Co for their latest pop-up residence and discovers something both different and excellent in Bah Bah Persian Kitchen.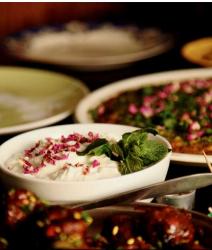 After a hard evenings climbing (that's right, I climb now), the pub is the perfect cool down. A cold pint does wonders for hot calloused hands. It's also advisable to get some food too, before those two pints take hold and I become too tipsy to eat anything other than takeaway chicken on the way home. All that hard work, undone in an instant.
This time, rather the usual pub-chain riverside haunt, we took the tube a little further south to Clapham Common, walking round the corner to The King & Co pub.
Mondays are a pretty good guarantee for a quiet pub. No one goes drinking on a Monday, do they? The first day of the week is always tiring and you're still in that false mindset that this week you'll work more and drink less. Well, it turns out The King & Co has a formula for Monday night success that involves a great pop-up kitchen and an energetic quiz master – so, which real-life character has been portrayed more times in a Hollywood film than any other?
The pub pop-up is a lesson in sensible business: it removes the risk and cost from the publican and incentivises the chef. We – the public – get exposure to new, exciting and different cuisine; the landlord doesn't have to fret about paying a salary to a cook not worth pulling his weight. As for the quiz question, I'll let Google work that out for you.
Pulling his weight in The King & Co is the guy behind Bah Bah Persian Kitchen. Dish after dish after dish of food that didn't tick the standard Persian boxes – basically, meze that could come from any of the Eastern Mediterranean cuisines.
No, instead this food was different. Very different, interesting and intriguing. We began with a slice of what can only be described as herb cake; although, I'm sure it has a genuine name. Heavy hints of coriander (the herb some people love to hate for no good reason), cardamom (maybe) and walnut. Like a slice of breath mint – but in a good way – it was a perfect palate 'setter', lining up our taste buds for the following courses.
I never know what to do here. Do I dive into an intimate deconstruction of every course? If so, I'll struggle – I didn't takes notes or keep a menu (they do have one online, however). We had lamb meatballs, covered in pomegranate, pistachios and a sweet sauce that I almost drank. We then had a slice of sea bass, served on peas and aubergine, with wilted spring onions. Now that dish, I could have eaten forever. So damn fresh, so damn tangy, so damn tasty, so damn healthy, it really cleared the cholesterol from the old heart.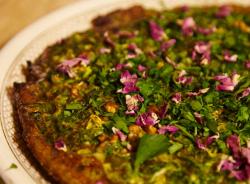 I could keep going, but I won't and we didn't. Perhaps we could have sampled a few more courses before moving to dessert, but I'll stick my neck on the line and say that Bah Bah Persian Kitchen would struggle to produce a poor or even average dish. Seriously, this is food that really you don't want to end.
But, end it does. Time ticks on and dessert has to be eaten. The roulade was good, as I expected it would be. The rice pudding though? Insanely different. For starters, it was green – on account of the pistachios, no doubt. Secondly, it was covered in nuts. Not a drop of England on the plate – well, aside from the saffron. Mr Ambrosia will be turning in his grave. This was a rice pudding made with cardamom and pistachio. Now what do you think of that? It ended the meal as it began – like a dose of herb filled breath freshener. Delicious and a great way to clean the palate and ease the stomach for the tube ride back home.
The King & Co seems to be one of those pubs that tries something different, something new and something interesting to bring in the customers. And what a winner that proves to be. Packed tables on a Monday and a kitchen rolling out food you are unlikely to find in any other boozer in London – or perhaps the country. Go, try and see if you can disagree.
Bah Bah Persian Kitchen is at The King & Co until 29th March, so not long left!
Want more?
– It gets messy at Cinnamon Kitchen for Holi celebrations
– Check out Mexgrocer: for everything Mexican
– Need something for Mother's Day? Champagne is the answer