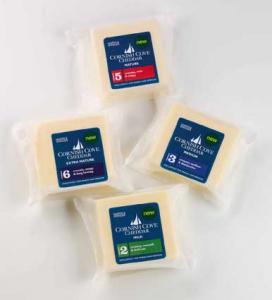 It would be interesting to know what the sheer tonnage of Cheddar consumption in this country is, given its ubiquity in our kitchens . There is something unique about the physical properties of Cheddar as well as its flavour which make it the most usable of ingredients for any of us who are looking for the highest ratio of satisfaction to cost and preparation time.
Cheddars can be broadly separated into three qualities of product. At the top of the scale are the accredited 'Farmhouse Cheddars' usually reserved for the cheese board and comparison alongside other noble relatives; at the bottom are the greasy, tasteless products too often foisted on the nations children who are deemed not to know any better and in the middle, the important area of quality cheddars which can successfully serve our day to day needs.
It is into this 'quality for everyday' market that Marks & Spencer have launched their new and exclusive 'Cornish Cove' range of Cheddar.
As a cheese lover based in West Cornwall I'm always interested in new products from the county and take an interest in how their 'Cornishness' is marketed nationwide, looking and hoping for a quality and distinctiveness that can merit the name.
The new Marks & Spencer brand is evidently made to a new recipe at the Davidstow Creamery in North Cornwall which has been producing Cheddars from locally sourced cows milk for fifty years. The range has already received a number of awards including 'Best mature cheese' and 'Supreme champion' at the Bath and West Agricultural Show.
Cornish Cove is produced in four 'strengths'; mild, medium, mature and extra mature.
Already fans of a richer flavour, we tried out the extra mature and, in order to see if there was any discernable difference, acquired a block of another branded extra mature Davidstow Cheddar from a rival supermarket chain.
A straightforward tasting revealed that there was a surprising degree of difference between the two. The new Cornish Cove has a drier, less oily texture while maintaining a rich creamy length of flavour, it also has a surprising , slightly fruity complexity which makes it quite suitable for the cheeseboard.
For cooking, Cornish Cove slices well in that slightly crumbly way that denotes a better quality and grates to a nicely separate fluffy mass which will turn some steamed green beans or al dente spaghetti into a quality meal that any hurried foodie will be proud of.
Cornish Cove recipes
For a delicious appetiser to fire up your taste buds, try Cornish Cove and Pepperonata Focaccia. This colourful starter or snack is quick and simple to make.
To follow, Cornish Cove's Tortilla Lasagne is a clever twist on a traditional recipe using just five ingredients including fresh spinach and tomatoes, with lots of Cornish Cove generously scattered throughout the layers.
Cornish Cove Cheddar and Pepperonata Focaccia
When you want something tasty for a starter or snack, this delicious Cheddar recipe really hits the spot.
Preparation time: 10 minutes
Cooking time: 5 minutes
Serves: 4
100g (4oz) Cornish Cove Mature Cheddar cheese
2 squares or generous slices of pepperonata focaccia bread
12 cherry tomatoes, halved
About a dozen basil leaves
Salt and freshly ground black pepper
1 Preheat the oven to 190°C, fan oven 170°C, Gas Mark 5.
2 Grate or thinly slice the cheese onto a board and divide into 2 equal portions.
3 Split the bread in half through the middle and place on a baking sheet. Arrange the cheese on the bread bases. Top with the cherry tomatoes and most of the basil leaves. Season lightly. Pop the tops in place and slice in half diagonally.
4 Bake for 4-5 minutes until the cheese has melted and the bread has warmed through.
Serve, garnished with the remaining basil leaves.
Cook's tip: Use any variety of focaccia bread – rosemary would work well too. And you don't have to use cherry tomatoes – just regular sliced tomatoes are fine.
Cornish Cove Cheddar Tortilla Lasagne
This clever vegetarian lasagne is so quick and easy to put together, needing just five ingredients. Even better – it contributes two portions to your 5-a-day and it tastes superb!
Preparation time: 20 minutes
Cooking time: 25 minutes
Serves: 6
250g (9oz) Cornish Cove Mature Cheddar cheese
350g (12oz) fresh spinach
6 soft tortilla wraps
350g (12oz) jar tomato pasta sauce
6 tomatoes, thinly sliced
Salt and freshly ground black pepper
Mixed salad leaves, to serve
1 Preheat the oven to 190°C, fan oven 170°C, Gas Mark 5.
2 Grate the cheese onto a board and divide into six equal portions.
3 Pack the spinach into a large saucepan and add a little water. Cover and cook for 3-4 minutes until the leaves have wilted. Drain well, squeezing out the excess moisture. Cool for a few minutes.
4 Place one tortilla wrap on a greased baking sheet. Spread 2-3 tablespoons of pasta sauce over the surface, then arrange one third of the spinach on top, season, then sprinkle with one pile of grated cheese. Place a second tortilla on top, spread with pasta sauce and arrange sliced tomatoes over the surface, sprinkling them with more cheese. Repeat the layers until the ingredients are used up, topping the final tortilla with just grated cheese and tomato slices.
5 Bake for 20-25 minutes. Cool for 5 minutes, then cut into slices. Serve with mixed salad leaves.
Cook's tips: You could use home made or ready-made pancakes instead of tortillas if you prefer. Refrigerate any leftovers and eat within 2 days, or wrap and freeze for up to 2 months.