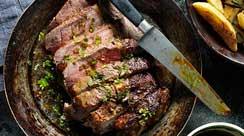 Recipe by James Ramsden
This is arguably the king of steaks – a beast of a rib eye, cooked on the bone. Perfect dinner for two.
Cooking time: 25 mins
Serves: 2
Instructions
Preheat the oven to 200°C.
First make the chimichurri by finely chopping the parsley and mixing with the oregano, garlic, red wine vinegar and olive oil. Season with salt and pepper, taste and adjust with more salt if necessary. Cover and set aside.
Peel the potatoes and cut into fat chips. Bring to a boil in a pan of salted water and simmer for 7- 8 minutes until close to being cooked. Drain and gently shake dry. Tip into a roasting tray and spray generously with Lurpak Cooking Mist. Add rosemary and garlic, season with salt and pepper, and bake in the oven for 45 minutes to an hour, gently shaking after 30 minutes, until crisp and golden.
Meanwhile, get a frying pan (preferably cast-iron) hot over a strong flame. Season the beef with salt and pepper and spray on both sides with Lurpak® Cooking Mist. Holding the rib up with tongs, brown the thin, fatty edge for a minute or two, then sit flat in the pan and cook for a total of 10 minutes for rare, 12 minutes for medium-rare, and 14 minutes for medium, turning the steak about once every 2 minutes, spritzing with the cooking mist each time you do. Remove to a warm plate to rest for a minimum of 10 minutes.
Slice the meat thickly and serve with the oven chips and chimichurri sauce.
Read more about Lurpak Cooking Mist
More recipes by Lurpak
Lurpak Cook's Range Cooking Mist £2.70 rrp 200 ml
Ingredients
A big handful of fresh parsley
1 tbsp. freshly chopped oregano, or 1 tsp. dried oregano
1 clove of garlic, crushed to a paste
2 tbsp. red wine vinegar
6 tbsp. olive oil
2 large potatoes, Maris Piper or King Edward
A handful of garlic cloves, unpeeled
A few rosemary sprigs
1 whole rib of beef, on the bone (about 600g), at room temperature
Lurpak Cooking Mist
Salt and pepper