Crispy Norwegian cod cheeks with dill, anchovy & pickled cucumber salsa
By Signe Johansen for the Norwegian Seafood Council
Cod cheeks have a meaty succulence to them which comes in handy when coating them in Japanese panko breadcrumbs that are fried and served with this Norwegian-inspired sweet & sour dill dipping sauce. If you want to serve all the cod cheeks at once, simply keep the ones already fried in a warming oven (around 80°C) until you're ready to serve them.
Panko breadcrumbs can be difficult to find, but are worth it for their crispeness after frying. Find hem in Japanese and Asian food stores, or online from Amazon and specialist food suppliers.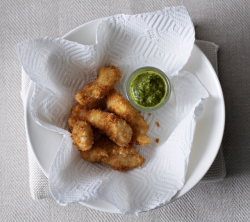 Serves 6-8 as a snack
For the cod cheeks:
1kg Norwegian cod cheeks
A bowl of generously seasoned flour (approx. 150g plain flour)
3 large eggs, lightly beaten
1 x 350g bag of Japanese panko breadcrumbs (I recommend JFC breadcrumbs)
For the dill salsa:
1 large bunch dill
1 small bunch parsley
½ tin Abba anchovies (Available from The Scandinavian Kitchen, Totally Swedish and Ocado)
½ jar homemade or Scandinavian pickled cucumbers (not French cornichons as these are too salty, German gherkins would be a better alternative)
1 tsp capers, rinsed
Zest and juice of 1 large unwaxed lemon
3-4 tbsp oil
1 tsp horseradish sauce or about 1cm freshly grated horseradish
Salt and pepper to taste
2 litres of plain vegetable oil suitable for frying
Sea salt for garnish
Start with the dill salsa: In a blender or magimix place all the ingredients and pulse several times to break down the dill and parsley. Once the leaves are starting to compress, blitz everything together for about 1-2 minutes or until the sauce is evenly blended and looks vibrant and green. If it's quite chunky simply let down the sauce with a little water and/or lemon juice if you like a punchy dipping sauce (I do!).
Cover the dill salsa with clingfilm and set aside while you prepare the cod cheeks. If there are any cheeks that are particularly large, i.e. bigger than a normal mouthful, then slice in half. Have an assembly line ready with one bowl of seasoned flour, another bowl with the eggs and a third with the panko breadcrumbs. Dip each cheek, or piece of cheek, in the seasoned flour, dust any excess off and follow with a dip in the egg, then finally coat in the panko breadcrumbs. Set each cheek aside on a platter while you prepare them all so they're ready for frying.
Heat the deep-fryer to 160°C or warm oil in a large saucepan to the same temperature. Be sure to have oven gloves, a lid and a large slotted spoon or spider ladle nearby. If the oil goes above 160°C, starts smoking or looks in danger of catching fire, turn off the heat immediately and cover with the lid to prevent any accidents.
Fry about 6-7 pieces of cod cheek at a time for about 1-2 minutes, or until they turn golden-caramel in colour. Remove from the oil and place on kitchen paper, sprinkle with sea salt and then pop in the warming oven while you prepare the rest of the cheeks. Repeat the process with each batch and then serve them warm with the dill salsa and a glass of bubbly or a crisp, cool glass of white wine. Aquavit works well too, as you might imagine.
For more recipes and inspiration on how to cook with high quality, delicious Norwegian seafood, please see www.facebook.com/SeafoodfromNorway