Vegetarians all too often get a 'raw' deal, but with Asian spices and sauces they can enjoy a flavour packed meal as much as any meat eater.
Here chick peas and sesame seeds deliver protein and oils to go with all that taste.
If you have the time to cook chick peas from dried you'll get a better texture but don't worry if you can't because canned are fine.
For an authentic Fusion & Asian cooking experience in your own home, you can buy WORLDFOODS sauces direct
All Foodepedia readers can take advantage of an EXCLUSIVE free shipping code on all products, please use: V2T9QF63
Serves 2-3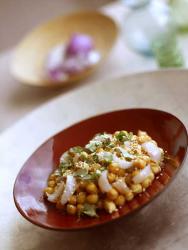 Suitable for Vegetarians & Vegans
1 tbsp WORLDFOODS THAI GREEN CURRY PASTE
1 tbsp cooking oil
1 large onion, thinly sliced
1 clove garlic, chopped
1 tbsp sesame seeds
1 can (200g) chick peas
1 tbsp lemon juice
1 tbsp chopped parsley
salt to taste
Cooking Instruction
Heat the oil in a large frying pan and cook garlic and onions until soft and brown.
Add in WORLDFOODS THAI GREEN CURRY PASTE and sesame seeds. Cook uncovered for 5 minutes, stirring occasionally.
Drain the can of chick peas, reserving 50ml of the liquid. Add the chick peas and liquid and cook until all the liquid has almost evaporated, stirring frequently.
4.Stir in lemon juice.
5.Add salt to taste.
6.Just before serving, add in parsley. Serve hot with rice or breads.