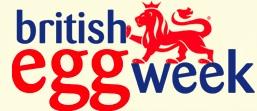 As part of British Egg Week from 4th-10th October Clarence Court have teamed up with leading chefs and food writers to demonstrate that better quality eggs make better tasting dishes. Below you'll find recipes for both kedgeree with soft-boiled egg and a classic chocolate mousse which prove the theory!
Mark Hix, Jason Atherton and Bill Granger all agree that the eggs you use when cooking make a difference not only to the colour and texture of the final result but to the actual taste as well.
Mark Hix says 'Quality eggs produce bright orange, rich creamy yolks packed full of flavour. I never wanted those yolks to end – a good egg is like a whole tasty meal in a shell.'
Jason Atherton also weighs in, saying 'To have a good egg in cooking is as important as fish, meat or vegetables. I insist our eggs are top quality and fresh as spring morning and as a result we have wonderful tasting dishes.'
Whilst Bill Granger reckons the secret to good scrambled eggs is the egg itself, 'Cracking open a good egg, for a little sunshine in a bowl, makes me feel like I have chickens scratching at my back door, and makes all the difference to my cooking. Never more so than when I am preparing my scrambled eggs.'
Mark Hix's Kedgeree with soft-boiled egg
Smoked haddock makes the best kedgeree, as the smokiness permeates the sauce and rice to give that delicious savoury flavour. You could replace some of the haddock with hot smoked salmon fillet or smoked mackerel, which creates a contrast in colours and flavour.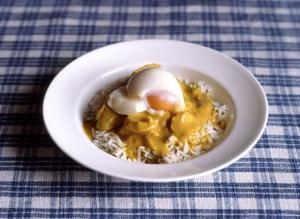 Serves 4
150g basmati rice 

1tsp cumin seeds
350g smoked haddock fillet, lightly poached
4 medium Burford Brown eggs
For the sauce
A good knob of butter 

2 medium shallots, peeled and finely chopped 

1 clove of garlic, peeled and crushed 

Small piece of root ginger, peeled and grated 

1/4 tsp ground turmeric 

1/4 tsp ground cumin
1/2 tsp curry powder
1/2 tsp fennel seeds 

A pinch of saffron threads
100ml fish stock (or a quarter of a good-quality cube, dissolved in that amount of hot water) 

400ml double cream
Salt and freshly ground black pepper
First, make the curry sauce. Melt the butter in a heavy-based pan and gently cook the shallots, garlic and ginger in it without allowing them to colour. Add all the spices and cook for another minute to release their flavours. Add the fish stock, bring to the boil and allow it to reduce by half. Pour in the cream and simmer until reduced by half. Blend the sauce in a liquidiser or with a stick blender until smooth and strain it through a fine-meshed sieve. Adjust the seasoning if necessary.
Rinse the rice a couple of times in cold water to remove any starch and cook it in plenty of boiling salted water with the cumin for about 12-15 minutes until just cooked. Briefly drain it in a colander and return it to the pan off the heat with a lid on. This allows the rice to steam dry, giving it a light fluffy texture.
To serve, soft-boil the eggs for 4 minutes, then run under the cold tap for a couple of minutes so you can peel them. Re-heat sauce and add the cooked smoked haddock or salmon or mackerel. Put the rice into a bowl, spoon over the fish and sauce, then place an egg on each.
Chocolate mousse
Serves 4-6
250g good quality dark chocolate, broken into small pieces 

50g unsalted butter, softened 

9 very fresh Burford Brown egg whites 

6 Burford Brown egg yolks beaten
125g caster sugar
Put the chocolate in a heat-proof bowl over a pan of simmering water, stirring every so often until melted. Make sure you don't get any water near the chocolate. Remove from the heat and beat the butter into the chocolate with a whisk or spoon until smooth.
In a bowl that's really clean – preferably washed in boiling water to remove any grease, and dried – whisk the egg whites until frothy but not stiff, using a mixer or an electric whisk on a medium high speed. Add half the sugar to the egg white and continue whisking on a low setting until the egg whites are stiff. Add the rest of the sugar and continue beating until the egg whites stiffen up even more, then mix in the egg yolks with a metal spoon.
Carefully stir half the egg mixture into the chocolate mixture – a whisk helps – then stir the rest in with a large spoon until well mixed in. Pour into a large serving dish and leave to set for a couple of hours, or overnight.