Thali, 166 Old Brompton Road, London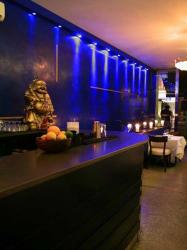 On a foodie stretch of Old Brompton Road Thali is up against the long standing and well loved Star of India and relative newbie Kare Kare. While the Star has raised its game over the years, it's still a curry house. Kare Kare, which claims to offer a New Zealand twist not obvious on its menu, gives every impression that it too is just another better-than-average neighbourhood Indian in this better-than-average neighbourhood.
Thali is in a different class. This is modern (but not mucked-about) north Indian cooking based on family recipes brought bang up to date – exactly the formula London foodies search for.
Presentation gives it all away – if the kitchen can be bothered to twist poppadums into delicate cones you know the chef's credentials add up. Dila Ram, Thali's head chef, chopped his chillies in the highly regarded Taj Group, training ground of many of London's best Indian chefs and factual evidence arrives with every plate. Yes, they grind their own spices. Yes, they make their own chutneys and dips. Freshness, authenticity, high quality – you don't need to ask.
We sampled a range of starters. Salmon cubes steeped in lemon juice, ginger, garlic, cinnamon and Kashmiri chillies were moist and sensitively spiced. Murg and mirch ka guchi to them; baby Padron peppers to you and me – stuffed with tiny cubes of chicken steeped in a herby, ground chestnut sauce – were perfectly balanced for colour, texture and taste. Butterflied prawns slicked with crunchy sesame seeds became heavenly with a dollop of a light, creamy pink fish sauce. Chunks of lamb marinaded in garam masala and slow-cooked can so often turn to mush; these richly flavoured mouthfuls retained texture and bite. A vibrant green mint and coriander chutney added a light touch to its rich flavours.
Thali is of course on the menu but in this era of me, me, me choice we'd be put off if that was all we could have. Halibut, sea bass, venison, duck, rabbit, lamb chops, Royal Bengal king prawns … it seems a shame to bring you back down to middle earth with a reassuring comment about chicken tikka masala's presence on the menu.
Though the food is the main draw, serious foodies demand more than exquisite taste-bud sensations. We want atmo. A midnight blue wall cleverly lit to shine on occasional strips of gold adds modern sophistication; this is mood lighting without the cliché. Glittering bottles fill a long, eclectically-filled bar. The team was young, friendly, open, helpful and informative. No fawning. What a relief.
On offer to we thirsty reviewers were minty mojitos, sharp margaritas and an espresso martini, darkly delicious and with three tiny floating coffee beans adding glamour. Film-star quality presentation – as you'd expect of a drink made with Mexico's Silver Patrón tequila and in a part of London known for its glimmer of glitz mixed with reality.
Three generations of owner Vikash Dhawan's family have pooled their collective cooking passion and poured their hearts into Thali. It shows. If you're tanked up on lager and need to fill your belly before you crawl home to crash, go elsewhere. If relaxed sophisticated dining is your thing, drop into Thali now, before the heavyweight reviewers make getting a table an impossibility.