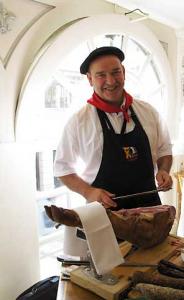 Pierre Oteiza is a happy man. In his heavily Basque accented French he is telling me about the Basque Pie Noir pigs that he saved from extinction. A large part of one of them is on a carving support in front of him and with a razor sharp knife, and precision borne from long practice, he is slicing wafer-thin portions non-stop.
'Smell the fat!' he insists holding out a slice to me. I do and can pick up notes of fresh butter, hazelnuts and fern. 'Look at the colour, he adds. It is dark red, marbled with bright white fat. 'Hold it on your tongue and let it dissolve!' I do and it is quite superb, one of the best hams I've had this year, and believe me I've had a few.
Made using very traditional methods, the Kintoa ham, as it is called, is salted with a special salt from Adour and then left to dry for at least 17 months. At the end of the seventh month it is covered with a fat called panne and then at the end of 17 months it's rubbed all over with the local pimento powder. It's a traditional method that pays taste dividends with this ancient breed of free-range pig.
Taste the terroir until October 4th
Pierre was awarded the Legion d'Honneur for saving the pig and he should get another medal for bringing this and more of his meats to Fortnum's as part of their 'Taste of the Basque Country' promotion- a special three course lunch that features the fantastic flavours of this still relatively unknown region.
Both a farmer and an artisan charcuterie maker, Pierre runs a company dedicated to quality and even has a shop in Paris. From his drying room in Aldudes he works with other artisans to create a range of superb dried meats such as Bayonne Ham, a duck sausage and a wonderful chorizo again flavoured with the local pimento, all respecting tradition and organic farming methods. They are all served on a wooden platter in Fortnum's, together with an excellent Arrodoy sheep's milk cheese and accompanying Espelette pepper jelly.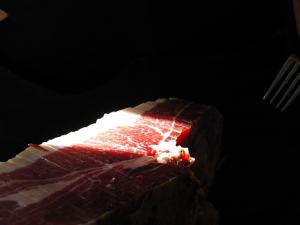 To follow the meats there are wonderful salt cod croquettes, freshly fried and insanely delicate, beautiful baked sardines, a rich lamb stew of the region called Txilindron, a sharp and almost meaty tuna tartare and prawns dusted with the marvellous Espellette pepper. All washed down with whites and reds from the Irouleguy region on the edge of the Pyrenees. Deliciously simple and satisfying
A Basque Crème Caramel rounds off the feast under Pierre's approving eye as he hands out free samples of his ham to people in the Gallery Dining Room. They seem to be going down very well, but the odd person who discards the fat is clearly making poor old Pierre wince. 'It's the best bit!' he says sadly. And he's definitely right.
A Taste of The Basque Country runs until October 4th in the Ground Floor Gallery restaurant in Fortnum and Mason and Pierre is carving and handing out free samples of the Kintoa Ham on the 24th and 30th of September in the Lower Ground Floor . The Oteiza meats can be bought online at www.pierreoteiza.com