Just about every region of Italy has its own minestrone. Filippo Berio has created a delicious Minestrone Alla Genovese packed full of tasty vegetables, this recipe is perfect for lunch or as a starter. This version of Minestroni comes from Liguria where the soup is traditionally topped with a spoonful or two of fresh pesto and plenty of parmesan cheese sprinkled over.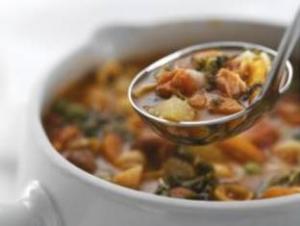 Preparation time: 10 minutes, Cooking time: 1 hour 5 minutes, Serves 4
Ingredients:
8 tbsp Filippo Berio Extra Virgin Olive Oil
1 large onion, chopped
100g pancetta, cubed
1 clove garlic, chopped
1tbsp chopped fresh parsley
2 sage leaves
2 celery stalks, sliced
2 carrots, sliced
2 potatoes, peeled and halved
1 (400g) can chopped tomatoes
1 tsp tomato puree
1.2ltr chicken stock
1 (400g) can borlotti beans, drained
2 courgettes, sliced
225g fresh or frozen peas
Quarter cabbage, finely shredded
100g small pasta
Filippo Berio Classic Pesto and parmesan cheese to serve
Method:
1. Heat the oil in a large pan, add the onion, pancetta, garlic, parsley and sage and cook over a low heat for about 10mins until the onion is soft and golden.
2. Add the celery, carrot and halved potatoes and cook for 5 mins. Stir in the tomato puree, tomatoes, stock and beans. Season well, then bring to the boil. Cover and simmer for 40mins, or until the potato has softened and broken up.
3. Add the remaining vegetables and pasta and simmer for 10 mins or until the pasta is just tender 'al dente'. Adjust the seasoning and serve in bowls with pesto spooned over.