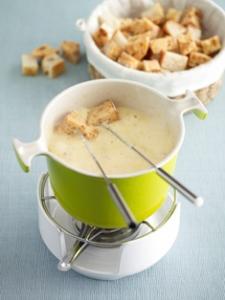 This rich and meltingly moreish fondue uses Frico Dutch Gouda cheese which has been flavoured with sun dried tomatoes, olives, herbs and garlic. It is perfect for sharing with friends.
Serves: 4,
Preparation time: 10 minutes, Cooking time: 15 minutes
Ingredients:
300 ml (½ pt) dry white wine
15 g (2 tbsp) cornflour
400 g (14 oz) Frico Dutch Gouda, grated
Freshly ground pepper to season
Accompaniments to serve:
Strips of red pepper and blanched celery, cubes of cucumber
Selection of bread, cubed, (e.g. ciabatta or focaccia)
Method:
1. Place the wine in a fondue pan (or a heavy-based saucepan) and bring to the boil.
2. Meanwhile, in a small bowl, blend the cornflour with 75 ml cold water to a smooth paste. Reduce the heat under the fondue pan to low and stir in the Frico Dutch Gouda cheese and the blended cornflour. Stir constantly until the cheese melts and begins to bubble. Season with black pepper and simmer for 2-3 minutes until thick and creamy.
3. Set the pan over a table burner and, using long-handled forks, dip your chosen accompaniments into the fondue.