One of three recipes using the fabulous olive oil of Castillo de Cana.
INGREDIENTS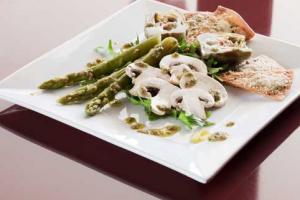 Salad ingredients:
1 bunch of green asparagus
5 artichockes
100g /3 ½ oz of field mushrooms
2 Mexican-style flour tortillas
100g /3 ½ oz of parmesan cheese, sliced
Oregano
Maldron salt
Rocket
Pesto ingredients:
1 garlic clove
1 tablespoon of pine nuts
50g /2oz of parmesan cheese
250ml / 8 fl oz of Castillo de Canena Family Reserve Arbequina extra virgin olive oil
1 large bunch of basil
Salt
Ground black pepper
How to make the salad:
Clean the artichokes, leaving just the heart, and boil in salted water, boiling with the juice of 1 lemon and 1 tablespoon of flour. Run them through cold water and drain.
How to cook the asparagus:
Cut off the earthy part of the stem so that each asparagus is the same length. Tie them in bunches of 6 and cook them in standing salt water until al dente or well done, depending on how you like it cooked but making sure that the ends do not break. Cut them in half.
Cut the field mushrooms into slices. Squeeze lemon over them so they do not go brown.
Cut the Mexican-style tortillas into small triangles, spread on Castillo de Canena Family Reserve Arbequina extra virgin olive oil and sprinkle them with parmesan cheese and oregano. Put them in the oven on the bottom shelf so they melt whilst making the salad. Cook for 3 minutes. Sprinkle on a few drops of oil again.
How to make the pesto:
Chop the garlic, pine nuts, and parmesan. Mix this paste with half of the Castillo de Canena Family Reserve Arbequina oil. Add the finely chopped basil with the remaining oil and use a handheld blender to mix the ingredients. Season to taste with salt and pepper.
To serve:
Layer the salad one by one, starting with the rocket on the base of the plate, with the artichokes cut into halves on top, followed by the sliced field mushrooms, and the asparagus crossed over. Season with Maldon salt and dress with the pesto sauce. Place 3 triangles of bread on top in the shape of a mountain.