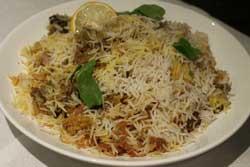 Biryani is the quintessential Pakistani comfort and celebratory food. To my family, Biryani means sleepy hot afternoons and Sunday lunches at my grandmother's…and on the flip side it reminds me of lavish colourful Pakistani weddings and long festive Eid (religious day) lunches. This Biryani recipe is unusual because of the use of a 'Green Masala' made up mainly of coriander, mint and green chilli and this recipe was passed down to me by my mother. Though the long list of ingredients may initially seem daunting, they are all easily sourced at your local Indian or big supermarket and as challenging as the method may seem it's actually simpler in practice than it reads. The use of whole garam masala is essential and they are easily procured as well.
The key method of cooking Biryani is slow cooking, which is achieved by cooking under steam (or 'dam' as it is known in Pakistan). My mother's version here is one with Indian, Persian and Sindhi (my province) influences and is close to my heart and rekindles fond memories.
We grew up always looking forward to having this Biryani at my mother's, always savoured with a cooling raita (yoghurt condiment) to ease the heat and we lingered over what was certain to be a lazy afternoon of feeling complete contentment and over indulgence
ingredients:
4-6 medium red onions finely sliced, deep fried and browned in an equal mix of vegetable oil and ghee (about 1 cup)
2 cups of natural yogurt (whipped and the browned onions above are added, the 'onion yoghurt mix')
1 medium whole skinless chicken cut into 12 pieces by butcher (Tip: The rice and chicken should always be in equal 'visual' quantities)
Whole 'garam masala' consisting of: 10 cloves, 2 long cinnamon quills, 10 green cardamom pods, bruised, 15 peppercorns, 2 star anise
2 ½ cups basmati rice (soaked in tap water for about 30 minutes before cooking)
About 1-2 cup each of Vegetable oil and ghee at hand
2 pinches of saffron (soaked in hot milk/water for 15 minutes minimum to release colour/fragrance)
1 tbsp rosewater
Ingredients for Green masala, grind the following into a fine, smooth paste:
2 inch piece of ginger
4-5 pieces of garlic
1 ½ tsp salt (or to taste)
1 cup chopped mint leaves
2 ½ cups of coriander leaves
3-4 de-veined thin green chilli
½ tsp turmeric
½ red chilli powder
To garnish and serve:
Garnish with a sprinkling of coriander and mint leaves
Serve with a raita made with 2 cups Greek yoghurt and a pinch of garlic paste, 1 tsp freshly dry roasted and ground cumin, salt, 1 tsp mint sauce and handful of chopped green chilli, coriander and cucumber and tomato.
Method:
1. In a large saucepan on medium heat, add a mix of 2 tbsp ghee and ¼ cup of vegetable oil. Fry the chicken pieces until brown but not cooked through. Take chicken out but keep pan with juices to cook the curry.
2. In a separate medium saucepan boil water with one of the cinnamon quills and 4 bruised cardamom pods and boil the drained rice until half done (el dente).
3. In the large saucepan used to fry the chicken (on medium heat), add ¼ cup of oil and 2 tbsp of ghee and fry the remaining whole garam masalas until they are fragrant but not burnt. Now add tomatoes and fry until a bit cooked through and oil rises to the top. Next add the green masala and cook until the oil rises on top as well.
4. Next add the browned chicken and the 'onion yoghurt mix' and fry until the curry is thick and the oil rises to the top. At this point pre-heat the oven to a medium 160-165 degrees C
5. Once the curry is ready take it off the heat and pour over the half cooked rice and shove lemon slices and mint leaves here and there, pour the saffron milk and a tbsp of melted ghee and sprinkle the rosewater over the rice. Cover the pan with a tight fitting lid (we used a dough to seal the lid, you could place some foil and then the lid to create a seal). Place in the oven for about 30 minutes to an hour, until the rice is perfectly cooked through.
6. To serve, give the rice a gentle stir to mix the curry with the rice, careful not to break the rice and dish out into a serving bowl with a sprinkling of coriander and mint leaves. Tuck in with an accompaniment of a cucumber and tomato raita.
Wine note: always a classic match for sub-continental foods – a Gewürztraminer matches the aromatic spices and sweet and hot flavours of a Biryani
Make ahead: The chicken curry can be cooked and refrigerated for up to 2 days. Reheat gently before assembling the rice and putting in oven. The green masala can also be prepared up to a day before.
Vegetarian option: Substitute the chicken with paneer – Indian cheese, available in most supermarkets. Fry this in oil and add as you would the chicken.
Serves 5
Takes 1 hour to prepare and 30 minutes to cook in oven (please see make ahead note at end of recipe)