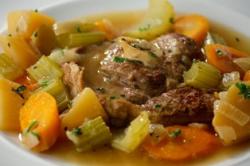 A warming and substantial dish using wedder lamb (mutton) that will leave you satisfied on a cold evening.
INGREDIENTS: SERVES 4
4 steaks cut from the leg or neck or chops of older Scotch Lamb
1 tbsp vegetable oil
2 large onions, sliced, or 8 shallots
2 large carrots, thickly sliced
1 large turnip (Swede) cut into chunks
4 sticks celery, sliced into 2.5cm lengths
2 tbsp plain flour
1 litre (1 34 pts) good lamb or chicken stock
2 tbsp freshly chopped mixed herbs (i.e. rosemary, parsley or and thyme) or 2tsp dried
Salt and freshly ground black pepper
METHOD
1. Heat the oil in a heavy based lidded saucepan. Fry the chops and shallots for 3-4 minutes just to seal the meat and lightly colour.
2. Add the carrots, turnip and celery. Cover and cook gently for 3-4 minutes.
3. Sprinkle on the flour and gradually stir in the stock and half the herbs. Season with a little salt and a generous grind of black pepper.
4. Bring to the boil, cover and reduce to a gentle simmer for 1-1 and a 1/2 hours or until the chops are tender. Adjust the seasoning and add the remaining herbs.
Delicious served on its own, with crusty bread or with mashed potato and green vegetables.