Experts have long since known that a healthy diet should include five daily servings of fruit and vegetables, as studies show that enjoying 'five-a-day' can offer protection against a wide variety of cancers. But a new study indicates that some vegetables like kale, spinach, Brussels sprouts and cabbage may have greater cancer prevention properties than others. A portion of kale offers many nutrients that are essential to our wellbeing, and now new research suggests that there are even more reasons to enjoy this excellent green vegetable. There is more good news for this versatile green, as research shows that kale's nutritional value is greater when you steam it as opposed to eating raw.
In season now, British kale has bags of potential. Added to a curry, a soup, stir fry or simply just steamed, kale is a very versatile vegetable. Packed with four times more vitamin C than carrots, richer in folate than broccoli, and with double the magnesium of spring greens, it has a lot to offer. With its distinctive flavour and vibrant colour, kale complements a wide range of dishes like: –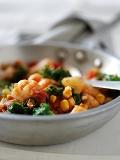 Fish and Kale Creole. Low in saturated fat, this tasty dish is a simple family supper that takes just 10 minutes to prepare. The colourful combination of tomatoes, sweetcorn, kale and pineapple looks and tastes great. Even better it costs less than £5 for a family of four, so is easy on the purse too!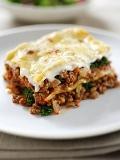 Beef and Kale Lasagne. Using store cupboard ingredients and ready prepared kale, this dish is hassle free and can even be made in advance. Served with a bag of green salad or seasonal vegetables this makes a hearty and tasty meal..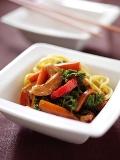 Kale, Ginger and Chicken Stir Fry. For a speedy solution when time is short, this dish is low in calories but not in flavour! At less than 300kcals per portion this dish is done and dusted in less than 20 minutes and costs just £1.27 per head.
Prawn and Kale Madras Curry. Kale is a good match for spicy foods and this spicy dish is made in moments too, which is just what you need after a busy day, or at the end of a busy week!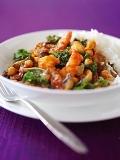 There are lots of different ways to use kale so it's easy to use the whole bag. Add a handful of kale to vegetable or minestrone soup, stir fry with almonds or mix cooked kale with mashed potato for a delicious bowl of colcannon.
Kale is in season in the UK from June to March. Usually sold ready prepared it is so easy to use this home-grown and versatile vegetable. Kale is a useful source of vitamins K, A and C, as well as containing significant amounts of manganese, copper, fibre, calcium, iron, the B vitamins, vitamin E, and lutein.
For these and more recipe ideas go to www.discoverkale.co.uk