It's hard to believe that such an easy recipe can taste so decadent and delicious. The key to success here lies in properly caramelising the onions; let them cook long and slow and you'll be rewarded with sweet and sticky results. I've also used three varieties, for a more complex flavour. You can use any cheddar you like, or swap it for something completely different, like a goat's cheese or Stilton. It's a great recipe for using up any bits of cheese leftover from Christmas.
Serve the tart either warm or cold with a sharp green salad dressed with lemon juice and olive oil, to counterpoint the richness of the filling.
150g cheddar cheese, crumbled
2 large red onions, sliced into thin half moons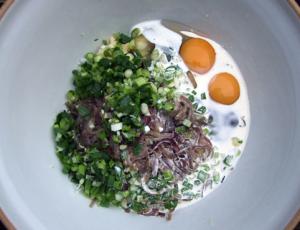 2 medium white onions, sliced into thin half moons
6 spring onions, finely chopped (white and green parts)
1 fat clove garlic, crushed1 sprig rosemary (or thyme), leaves removed and finely chopped
2 eggs
100ml double cream
250g shortcrust pastry
Salt and white pepper
This recipe fills a 24cm tart dish.
Begin by caramelising the onions. Heat 2 tablespoons of vegetable or groundnut oil in a heavy based frying pan and add the red and white onions. Once they are sizzling, turn the heat down as low as possible and let them cook gently for about an hour, stirring every so often, until very soft and caramelised.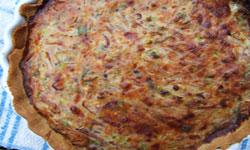 Preheat the oven to 190C/fan 170C/gas 5. Roll out the pastry to fit the dish and carefully lay it in, covering the base and sides. You want the pastry
to overhang the sides by a couple of centimetres, as it will shrink during cooking. Make sure to patch up any holes. Fill the pastry base with baking beans (or dried beans or rice) and cook for ten minutes before removing from the oven and setting aside.
Mix the cheese with the spring onions, rosemary, eggs, cream and caramelised onions when ready. Season with salt and white pepper. Pour the filling onto the tart base and spread evenly. Bake for 25-30 minutes until golden brown.
Serve warm or cold with a sharp green salad.