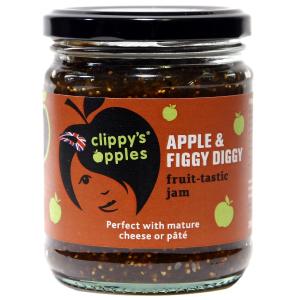 Made in small batches by working mum and Master Preserver Clippy, Clippy's Apple products capture British seasonal and indulgent ingredients in bringing together a range of luxury preserves. We are told that Clippy is on a mission to save British apple orchards. Her passion for British apples began when she found out that two-thirds of British apple orchards have been lost since 1970 and together with fiancé Paul Gorman, Clippy wants to reverse this disturbing trend. She founded Clippy's Apples in 2008 by using apples from her back garden and continues to use only British apples in all of her creations. We understand that all Clippy's Apple products are made in her home kitchen where she ensures that her products are packed with lots of fresh fruit.
Clippy's range includes Apple & Figgy Diggy Jam, Apple Pie Jam, Apple & Plum Chutney, Apple, Mango & Chilli Chutney and Apple, Redcurrant and Chilli. We tasted two of these products. The Apple & Figgy Diggy, which has 60% fruit content in its preparation, the finished product has a ratio of 59% sugar to other ingredients. It's a thick fruity 'cheese' type jam, the apple and fig flavours come through well and despite its sugar content, is not overly sweet. The label suggests that would pair well with mature cheddar, or matute cheese generally and pate and for those of you who like chutneys with their cheeses this would be an excellent choice.
T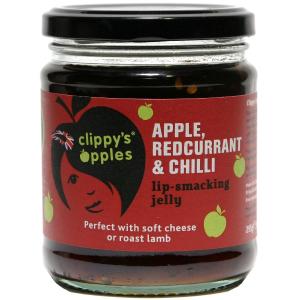 he Apple, Redcurrant and Chilli Jelly has 63% fruit content in its preparation and 50% sugar in its finished product. This is a jelly with substance, although quite soft it has body, a good fruitiness and the two principal flavours come through really well, then you get the heat from the chilli. The label suggests using it as an accompaniment with roast lamb or with soft cheeses. It would go well with either, it would also be a good additive to gravies and sauces for red meats, the fruity heat would lift them into a different dimension.
Both of these products are very good indeed and if an indicator of the quality of the full Clippy's range, they are absolutely worth exploring. So, if you are looking for something a little different this Christmas either to lift the cheeseboard or to give a little zing to hot or cold meats, why not look at the Clippy's range?
Clippy's Apples products are available to purchase via Ocado.com and a number of stockists around the UK including Fortnum & Mason and Harvey Nichols.
For more information, go to www.clippys.com