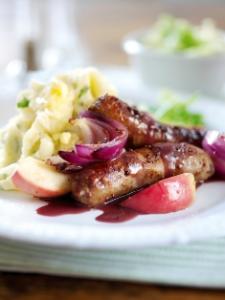 Serves: 4, preparation Time: 20 minutes
Cooking Time: 20 minutes,
Ingredients:
• 6 large maris piper potatoes (about 1.5kg)
• 6 Best of British Pork sausages
• 1 tbsp oil
• 100g Country Life Spreadable
• 2 tbsp runny honey
• 1 tbsp whole grain mustard
• 150ml whole milk
• 2 tbsp fresh thyme leaves
• 1 tbsp parsley, chopped
• 2 British eating apples
• 1 red onion, cut into wedges
• 2 tsp flour
• 75ml red wine
• 200ml chicken stock, made with 1 stock cube
• 1 tbsp Worcestershire sauce
Method:
1. Preheat the oven to 180C, fan 160C, 350F, Gas Mark 4.
2. Place the potatoes on a baking tray and bake for 1-1½ hours, or when the flesh of the potatoes is soft when pierced with a knife.
3. Heat the oil and a tablespoon of Country Life Spreadable in a large frying pan over a high heat and add the sausages. Reduce the heat and cook for 10 minutes, turning to brown all over. Add the honey and mustard and cook for a further 5 minutes.
4. Core the apples and cut into wedges. Push the sausages to the edge of the pan and add the apple wedges. Cook for about 2 minutes each side, until turning golden. Remove the sausage and apple with a slotted spoon and drain on kitchen paper. Keep warm.
5. Add the onion to the pan and cook, stirring, for 6-8 minutes, until softened. Stir in the flour and cook for 1 minute, then gradually add the wine, half the stock and Worcestershire sauce. Stir until smooth. Add the remaining stock and allow to bubble for a few minutes to thicken the gravy. Return the apple to the pan and season.
6. Cut the potatoes in half, and scoop the flesh into a bowl. Add the milk, and the butter, then mash with the potatoes until well combined. Add the herbs and season with salt and plenty of pepper.
7. Divide the mash between 4 plates and top with the bangers and spoon over the gravy. Serve with Savoy cabbage and leeks.