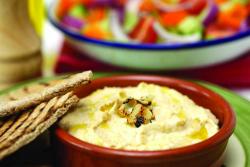 You don't have to as rich as David Beckham to sample the delicious dishes of the Jumeirah Beach Hotel & Al Khayal in Dubai. Executive Chef Maurice Fitzgerald has jotted down his recipe for Hummus for us. So get some pittas and get stuck in!
Ingredients
140g Chickpeas
90g Tahini
4g Garlic
7g Salt
5g Lemon salt
2g Chopped parsley
6g Parsley leaves
80ml Lebanese olive oil
4g Paprika powder
2g Bicarbonate of soda
Method
Soak the chickpeas overnight with the bicarbonate of soda.
The following day, wash the chickpeas thoroughly and then place in a large pan of boiling water.
Before the chickpeas are completely cooked, remove a handful of them to be used later as garnish.
Keep the heat on the remaining chickpeas until they are cooked thoroughly, then wash them again to remove the skins. The whole cooking process takes around two hours
Once completed, put the chickpeas in a strainer and then add some ice at the top to help chill the mix.
Once this has chilled, put the chickpeas in a blender with the garlic, then mix until it resembles the texture of houmous. Add the tahini, salt, lemon salt and blend until you achieve a velvety smooth texture.
To ensure it retains its flavour, keep in the fridge for a few hours, and then dish it up.
Garnish with paprika, chopped parsley and the remaining chickpeas in the middle. Then add the parsley leaves and a splash of olive oil.