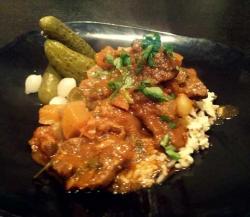 With winter nights setting in, serious comfort food is required. Time and time again I resort back to this slow cooked Hungarian favourite. Goulash with its warming paprika, meltingly tender beef and satisfying thick sauce is about as good as it gets as the nights grow longer.
My version of goulash more or less follows a classic recipe but with a couple of twists: The beef has to be cut into really big chunks,  diced turnip gives it an earthy and olde world feel and pockets of sweetness from silver skin cocktail onions make every mouthful an adventure.   
Ingredients:
1 medium joint of beef – cut into large chunks
Plain flour Salt and pepper
1 white onion – diced 5 cloves of garlic – diced 1 green pepper – diced 1 red pepper – diced 2 or 3 babyTurnips – cut into small cubes
1 x Carton of good quality beef stock
1 x medium glass of white wine
4 tablespoons paprika
2 large beef tomatoes – diced
1 tablespoon tomato puree Medium bunch of parsley
2 heaped tablespoons of baby silver skin cocktail onions
Method
1. Sprinkle about 2 tablespoons of plain flour into a bowl, add a teaspoon of paprika and a good pinch of salt and pepper
2.  Place the chunks of beef in the bowl and toss in the seasoned flour until they are well covered. Discard any leftover flour.
3. Heat some oil in a large pan and fry off the beef until browned on each side. Remove the beef and set aside.
4. Using the same pan, throw in the diced onion, garlic and peppers and fry until the onions are tender.
5. Add salt, pepper,paprika, tomatoes, turnips and tomato paste to the pan and fry the ingredients together for a further minute or two. At this stage the ingredients will be quite dry due to the paprika, the tomato juice should begin to seep out quickly though.
6. Add the white wine and continue to cook until the alcohol is cooked off.
7. Add the beef stock ,return beef to the pan and throw in a good handful of chopped parsley and a very good pinch of salt and pepper.
8. Transfer all of the ingredients into and oven proof dish cover and place in an oven at about 160C
9. Cook for between 2 – 3 hours until the sauce is thick and the beef is very tender.
10. Serve with rice, pickles and a flourish of parsley.