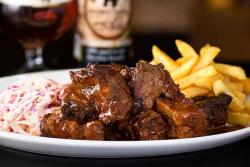 Way back in 2002, Bodean's entered the London restaurant scene with its authentic'smoke it low and cook it slow' way of BBQ. Since then BBQ has exploded and they've  introduced heaps of authentic Kansas style dishes, including the famous Burnt Ends. These are chunks of beef brisket rubbed in a unique spice blend and smoked for up to 11 hours over oak. These are then mopped in Kansas style Hickory sauce.
 Burnt Ends
 We use the top of the brisket, you can ask your butcher for brisket tops or brisket "ears". They have a higher fat content and will remain juicy after the long cooking process.
 1.       Work the Bodean's BBQ Rub into the whole brisket top and leave at room temperature for an hour, allowing the sugar to slowly melt and the seasoning to work its way into the meat. 
2.       Set your BBQ up for indirect cooking. This means the heat source (charcoal) is one side of the BBQ and the meat is on the other. For a truly authentic Kansas City BBQ flavour use Oak or Cherry wood chips on the charcoal (Bodean's BBQ Tip: soak your chips in water before using to stop them burning too quickly).
3.       Stand a pan of water under your brisket, place the top on your BBQ and maintain the heat at 110oC – 120oC.
4.       The tender brisket will take approximately 2 ½ hours per kg to cook i.e. a 2kg brisket top will take nearly 5 hours to cook. The internal temperature should reach 90-92oC.
5.       For the best results, leave your brisket for 30 minutes after cooking and then chop into 1 inch chunks. For wet burnt ends slather with your favourite BBQ sauce or simply season with more Bodean's BBQ Rub for dry burnt ends. Use the trimming in your BBQ Beans for extra BBQ flavour.
Serve with corn bread & BBQ Beans
Corn Bread Muffins (Makes 7-8)
2 Whole Eggs
150g Semi Skimmed Milk
150g Buttermilk
150g Plain Flour
150g Polenta (Fine cornmeal)
4g Baking Soda
10g Baking Powder
30g Butter
2g Table salt
40g Caster Sugar
In a large bowl whisk the eggs, buttermilk & milk & melted butter
Mix together the flour, polenta, baking powder, baking soda and salt and sugar
Make a well in the dry mix and add the wet mix
Melt the butter and gently fold all the ingredients together to form a wet batter
Preheat the oven to 180oC
Fill the muffin molds with 100g of mixture (about ¾ full)
Place in the pre heated oven for 25mins until the tops are golden brown
To test a insert a skewer, it should come out clean
Allow to rest in the molds before removing
BBQ Beans
150g Onions
10g Garlic Puree
15g jalapeno
100g Piquant Sauce
1g Dried Oregano
1g Cracked Black Pepper
300ml Bodean's Hickory Sauce
200g Water
10gg BBQ Rub
150g Haricot Beans
150g Kidney Beans
250g Black Beans
30g Brown Sugar
In a large pot on a medium heat, cook the onions, chilies, garlic, oregano, spices and brown sugar until the sugar starts to dissolve
Add the sauce & water, bring to the boil cook for 20 minutes
Add the drained beans and continue to cook for 20 minutes
Add 200g of your Burnt end trimmings & cook for a further 20 minutes