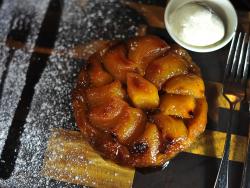 Courtesy of Ronnie Kimbugwe, Head Chef at Bel & The Dragon 
"Tarte tatin is a traditional French pudding that we do with our own slight twist or interpretation".
Ingredients:
3 Pink lady apples, peeled quartered and turned
50g of butter
100g caster sugar
1 cinammon stick
1 star anise
1 puff pastry disc
Method:
Spread the butter into the bottom of a heavy based 15cm sauce pan.
Evenly spread the sugar over the butter.
Place the cinnamon stick and star anis across the middle of the pan.
Tightly pack the apple pieces in the pan, placing the cored end of the apple in the centre. 
Put the pan onto a stove and at high heat let the sugar caramelize until it's a light golden brown colur.
Take off the heat and let cool slightly before placing a 4mm puff pastry disc on top, pushing it in round the apples at the edge of the pan and spiking the pastry a few times to let steam out. 
Place in the oven and bake at 200 degrees C, for about 25 minutes, when the pasty will be a nice golden colour and crispy. The caramel in and around the apples will be a nice dark caramel colour.
Let it rest for a while then turn out onto a plate and serve with vanilla ice cream.