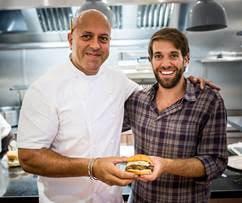 Shake Shack® UK will dish up a limited edition burger collaboration with chef Sat Bains at the Covent Garden Shack for one day only—Friday, 9th October.
Chef Sat Bains founded Restaurant Sat Bains in Nottingham, England in 2002, and it was awarded its first Michelin star the following year. The restaurant has since garnered two Michelin stars, the ultimate 5 Rosettes from the AA, and 9 out of 10 in the Good Food Guide.
This limited edition burger—The Major Oak (£7.25), named after the famous English oak tree in the heart of Sherwood Forest, was crafted collaboratively by chef Bains and Shake Shack culinary director Mark Rosati. Made with Shake Shack's custom-blend Aberdeen Angus beef patty, The Major Oak burger is topped with fresh shallots, a slice of creamy blue Beauvale cheese from Nottinghamshire's Cropwell Bishop Creamery and a touch of pine from the needles of local coniferous trees. Bains also created a special forest-inspired ketchup made of seasonal "Penny Bun" mushrooms, as well as a smoked mayo with a hint of charcoal from Sherwood Forest's red oaks.
"The Major Oak is a nod to Nottinghamshire's historic Sherwood Forest made famous by Robin Hood," said chef Sat Bains. "Together with Shake Shack, we're commemorating my home county, and we've created a remarkable, one-of-a-kind burger full of flavour inspired by this historic woodland."
Only 500 of the burgers will be served, exclusively on 9th October and available on a first-come, first-served basis. For those craving a ShackBurger or Union Shack Concrete, the entire Shack menu will be available throughout the day as well.
"Sat is incredibly community-minded and displays an infectious sense of local pride by using hometown ingredients," said Shake Shack Culinary Director Mark Rosati. "I'm thrilled to work with one of the UK's most brilliant chefs to bring the unique tastes of his beloved East Midlands to Londoners for one very special day. The Major Oak burger is the perfect blend of classic American comfort cuisine reimagined through the masterful touch that Sat brings to this collaboration."