Traditionally a favourite of Bridget Jones' mum and leftover-enthusiasts everywhere, this Knorr recipe for a mild turkey curry serves 10.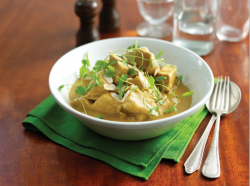 Recipe serves: 10
Preparation Time: 40 min
Cooking Time: 45 min
Ingredients
25g plain flour
2 Knorr Chicken Stock Pots
25g unsalted butter
½ a large pineapple, peeled and chopped into chunks (including core)
2 Cox apples (approx. 250g), unpeeled, roughly chopped
1 banana
1 small onion, finely chopped onion
3 tbsps mild or medium curry powder
25g unsweetened desiccated coconut
75ml double cream (optional)
1kg leftover cold roast turkey
Toasted flaked almonds
Coriander leaves, picked
Method
1) Pre-heat the oven to 220˚C/425˚F/Gas Mark 7. Sprinkle the flour in an even layer in an ovenproof frying pan and place it in the oven for 12–15 minutes until lightly browned.
2) Meanwhile, as the flour browns, begin cooking the curry. First, take the 2 Knorr Chicken Stock Pots and mix them with a litre of boiling water, stirring until thoroughly dissolved. Set aside.
3) Now heat a large, heavy-based casserole dish on the hob. Add in the butter. Once melted, add in the pineapple and sliced apple. Peel and slice in the banana. Add in the chopped onion.
4) Stir with a spatula over a low heat for around 10 minutes until the fruit begins to break down.
5) Add in the curry powder and mix well. Stir ingredients for 2–3 minutes over a low heat. Add in the desiccated coconut.
6) Remove the lightly browned flour from the oven and add it into the curry paste mixture, mixing it in thoroughly.
7) Pour in 250ml of the chicken stock, stirring it so that the paste dissolves into the stock.
8) Gradually add in the remaining stock, 250ml at a time, stirring in thoroughly after each addition to make sure the sauce is free from any lumps.
9) Bring to the boil, simmer for 8–10 minutes, and stir in the double cream if using.
10) Using the back of a ladle to press it down, pass the curry sauce through a fine sieve if you wish or liquidise until smooth.
11) Return the sieved or liquidised curry sauce to the casserole dish. Add in the cooked turkey chunks, bring to the boil, reduce the heat and simmer for 10 minutes until the turkey is heated through.
12) Garnish with toasted flaked almonds and fresh coriander leaves and serve at once.