Get down to White's Row, Spitalfields to try the Indian family-style cooking of Gunpowder, a new offering from founder Harneet Baweka and former Oberoi and Tamarind Collection chef Nirmal Save.
Named for a spice mix made with pulses, chilli, curry leaves and'hing' (Hindi for Asafoetida don'tcha know), Gunpowder takes up residence in an old curry house and fittingly aims to serve home-style Indian like mama used to make.
The Menu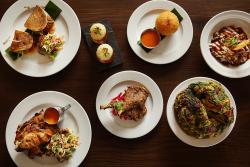 The menu features family recipes and is primarily designed to share. Look out for Chettinad pulled duck with homemade oothappam, Kashmiri lamb chops, and the whole baby chicken chargrilled in tandoor spices. The dessert menu, which sounds like sugar, spice and all things nice, offers a promising selection, too, with the old monk rum pudding and molten spice chocolate cake in particular sounding order-worthy.
If all that gets you thirsty, the drinks menu is stocked with wines from Australia, New Zealand and Europe, with beers from London breweries. There is also a  fully loaded cocktail list, with such dangerous concoctions as the Bow Barrack Gimlet. We'll leave you to see what that's like.
The Essentials:
Closed Mondays & Sundays
Tuesday – Saturday: Lunch 11am – 2:30pm, Dinner: 6pm – 11pm
Address: 11 White's Row, Spitalfields E1 7NF
Phone: 020 7426 0542