Collier's Cheddar does what it says on the tin- Powerful and Welsh. Aged up to 20 months, it contains lush crunchy crystals of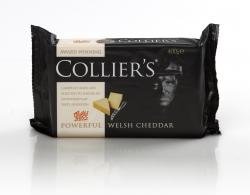 amino acids that add a unique crunch and savour. Eat as is, or knock up this ultimate rarebit from Kurt Fleming
Ingredients:
50g plain flour
50g Collier's Welsh Valleys butter
250g Collier's Powerful Welsh Cheddar, grated
250ml Welsh ale, such as Tomos Watkin or Brains, warmed
2 tsp Double Dragon Welsh mustard
2 tbsp Worcestershire sauce
4 slices fresh white bread, thickly sliced
freshly ground black pepper
Method:
Preheat the grill to high.
In a small saucepan melt the butter and stir in the flour to make a roux.
Cook for a couple of minutes, stirring continuously.
Gradually add the warmed beer until you have a smooth but thick sauce.
Add the grated Collier's and stir until melted.
Add the mustard and Worcestershire sauce to the mixture and season with black pepper.
Lightly toast then butter the bread, then divide the cheesy mixture between the slices.
Cook under the grill until brown and bubbling.
For more information on Collier's Powerful Welsh Cheddar, visit www.collierscheese.com