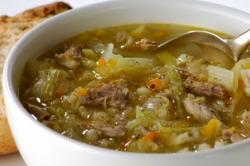 A hearty broth using wedder lamb (mutton) ideal for warming you up on those cold winter evenings.
INGREDIENTS: SERVES 4
450g (1lb) boneless shoulder or leg or middle neck of Scotch Lamb, trimmed of excess fat
50g (2oz) pearl barley, rinsed and drained
25g (1oz) split peas, soaked overnight and drained
1 large onion, chopped
1 leek, chopped
2 carrots, grated
1 Scottish swede, grated
1/4 small green cabbage, shredded
1 tbsp freshly chopped parsley
Salt and freshly ground black pepper
METHOD
1. Place mutton in a large pan with 2 Litres water, the pearl barley and split peas. Season with salt and pepper. Slowly bring to the boil skimming off any white scum from the surface. Cover and simmer for 90 mins. or until the meat is tender.
2. Add the onion, carrot, turnip and leek and continue to simmer for 45 minutes.
3. Remove the mutton from the pot. When cool enough to handle remove the meat from the bone, shredding it into small pieces.
4. Return the meat to the soup with the cabbage and simmer for a further 15 minutes.
5. Generously season with freshly ground black pepper.
Ladle generous portions into deep bowls (garnish with chopped parsley) and enjoy!