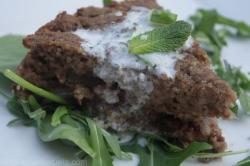 Below Dirty Kitchen Secrets blogger Bethany Kehdy shares her recipe for the classic Lebanese dish Kebbeh.
If you've already got a tasts for Lebanese cuisine it's worth noting that Bethany will also be leading guests on a culinary journey through the sights, sounds and tastes of Lebanon with the Taste Lebanon culinary adventure.
Taking place from 23rd September to 1st October, it's a great opportunity to visit the fascinating country of Lebanon, learn more about the culture and take part in cookery lessons that'll leave you with a new set of skills even after your tan has faded.
To find out more about Taste Lebanon and get a full itinerary click here.
Kebbeh is the national dish of Lebanon and is a mixture of minced lamb, bulghar wheat and '7-spice' (even proportions of black pepper, clove, ginger, cinnamon, coriander, cardamom, cumin).
In Lebanon it's sometimes eaten raw like Steak Tartare, this version is called Kibbeh Naye. However, Bethany's recipe is for a baked Kibbeh, known as Kibbeh Bil Sayneeye and is served in tart cases.
Kebbeh- Serves 12
1 kg minced lamb- from the leg (ask your butcher)
1 large onion, quartered
3 tablespoon of allspice (the spice) or 7-spices (even proportions of black pepper, clove, ginger, cinnamon, coriander, cardamom, cumin)
2 teaspoons of nutmeg
2 teaspoons of cinnamon
350g of very fine bulghar, soaked 1hour and well drained
Salt to taste (I put in about 2tbsp)
4 recyclable flan cases 215 mm DIA x 24 mm deep
Olive oil for drizzling
For the filling:
2 large onions, cut into rings or thin strands
500g of minced lamb
1 tablespoon 7 spices/allspice
80 grams pine nuts
1 tablespoon ghee or olive oil (healthier option obviously)
For the yogurt dressing:
500g natural Greek style yogurt
1/4 cup water
2 garlic cloves, pureed in a mortar
1 large cucumber, finely sliced
20 fresh mint leaves, finely chopped
1 teaspoon lemon juice
salt to taste
Mix all ingredients together and let sit in fridge.
Lets begin by making the filling:
Place a skillet or sautee pan over medium heat, drizzle the olive oil and sautee the onions till soft, about 2-3 minutes.
Add the pine nuts and sautee for another 2-3 minutes until almost golden. Now add the minced meat and cook till browned. Mix the spices in and add salt and pepper to taste.
For the Kibbeh layers:
In a food processor, mix the quartered onions on high, till almost pureed in consistency. Add the meat a quarter at a time. Mix well. Now add the strained bulghar, a cup at a time.Mix on high. Add the spices and salt and give it a final whizzzz… About 2-3 minutes on turbo. The result should be a smooth emulsified paste. Pre-heat oven to 4G/350F/180c. Divide the Kibbeh paste into 8 even portions. Lightly grease your baking dish, in this case dishes, and spread 1 portion of the kibbeh for each dish, creating an even layer.
Evenly spread the meat filling across all the baking dishes.
Now cover each dish with 1 portion of the remaining Kibbeh, creating a final layer. Using a knife, gently slice into the top layer, diagonally creating diamond shapes; then divide into six even slices. Create a small hole in the center and drizzle all over with olive oil. This gives it a nice golden brown color as well as adding a bit of flavor. I don't recommend that you skip this step, but rather just go the lighter way.
Pop into the oven for about 45 minutes or till golden brown. I usually grill it the last 6-8 minutes because I like when the top layer gets extra crispy.
Pour the yoghurt dressing over each slice and serve with Fattoush salad!
Photo courtesy of the Dirty Kitchen Secrets blog.