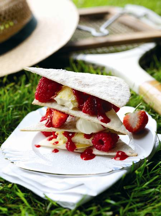 Another great British gastro gift to the world here adapted slightly but still finger licking, chin totally covered in cream and jam good!
Ingredients
2 x Mission Deli Wraps (original)
1tbsp caster sugar
225g/8oz raspberries
1tbsp icing sugar + extra for dusting
½ orange, juice only
450g strawberries, hulled and quartered
225g/8oz pot clotted cream
Method
1. Pre-heat the oven to 200C/400F/Gas 6.
2. Cut each wrap equally into 8 triangles, place on a large baking tray and scatter over the sugar. Bake in the oven for 5 minutes until golden. Remove from tray and set aside to cool.
3. Place ½ the raspberries in a small food processor with icing sugar and orange juice. Whiz until smooth.
4. Toss the remaining raspberries and strawberries together.
5. To serve, lay 1 deli wrap triangle onto each serving plate. Spoon over a dollop of clotted cream on each, followed by a spoonful of berries and drizzle over some of the raspberry sauce. Repeat this twice more laying the triangles at different angles.
6. Finish with a dusting of icing sugar and serve.