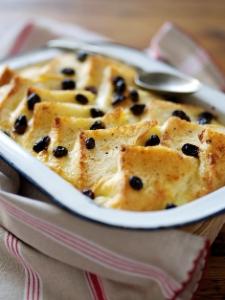 Serves: 6, preparation Time: 20 minutes
Cooking Time: 35 minutes
Ingredients:
• 4 tbsp sultanas
• 1 tbsp orange juice
• 50g Country Life Spreadable Reduced Salt
• ½ tsp cinnamon
• ½ tsp nutmeg
• 4 tbsp marmalade
• 250g lightly stale bread, crusts removed
• 225ml semi-skimmed milk
• 142ml double cream
• 2 eggs
• 25g golden caster sugar
Preheat the oven to 160°C, fan 140°C, 325°F, Gas Mark 3. Lightly butter a 1.5-litre ovenproof dish.
Method:
1. Soak the sultanas in the orange juice, for an hour or overnight if possible.
2. Mix together the Country Life Spreadable Reduced Salt, cinnamon and nutmeg. Lightly butter the bread slices using mixture. Cut each slice into quarters diagonally. Layer half the bread, butter side up, on the bottom of the dish and spoon over the marmalade and half the drained sultanas. Top with the remaining buttered bread again buttered side up and sprinkle with the remaining sultanas.
3. In a jug, beat the milk, cream, eggs and sugar together lightly, using a fork. Pour the mixture evenly over the bread. Put the dish in a roasting tin and pour hot water around it to a depth of about 2.5cm/1in.
4. Bake for 35 minutes until the pudding is just set – it should be yellow inside and nicely browned on top. Serve with double cream.
Tip: For those with a very sweet tooth replace the bread with brioche.