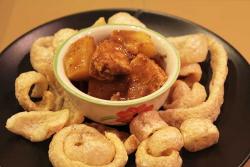 Peanut makes this curry extra thickly sauced and with a dense protein packed flavour. The pork rind is optional but if you have any crackling left over from a Sunday roast then this is one great way to make good use of it.
For an authentic Fusion & Asian cooking experience in your own home, you can buy WORLDFOODS sauces direct
All Foodepedia readers can take advantage of an EXCLUSIVE free shipping code on all products, please use: V2T9QF63
Ingredients
1 jar WORLDFOODS Thai Masaman Curry Sauce
300g Skinless chicken fillets, 2 cm. diced
200g Onions, 2 cm. diced
200g Potatoes, 2 cm. diced
50g Roasted Peanut
Cooking Instruction
1. Boil potato till soft. Set aside.
2. Heat WORLDFOODS Thai Masaman Curry Sauce in a pot.
3. Add chicken, potatoes, and onion then simmer sauce until thickened.
4. Add in peanut for last. Serve with crispy-fried pork rind.  
Serves 4