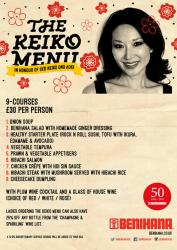 Chefs today, they think they're so smart but how many of them can toss an onion in the air using just a knife and then catch it behind their back? Or in their hat?
Benihana have been putting on their special Teppanyaki table shows since at least the 1980's, or rather that's when I first went to one as part of an office outing. I thought at the time that it was great fun and the food was, to my youthful palate, pretty good too. The bill was enormous but we were in advertising so someone else paid, probably a client.
Since then I haven't really given Benihana much thought, it is after all a chain restaurant and we're not supposed to like chains unless they're called Hawksmoor. They're still going strong though. Founder Hiroaki "Rocky" Aoki passed away in 2008 but Keiko Ono Aoki now runs the show and in her honour Benihana has a Benihana Ladies Only Menu until the end of August – – 9-courses for £30 per person which includes  a plum wine cocktail and a glass of house wine.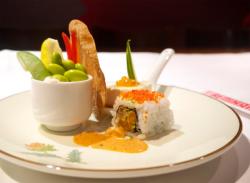 Now I am a not a laydee of course, but persuaded our local Benihana in Mayfair to serve the special meal to myself and the 15 year old daughter of a friend anyway. She was wide-eyed at the prospect, while I was a little worried that someone would call Operation Yewtree when they saw us together at the table. No one is safe these days. I forbade her the alcohol, for obvious reasons, but everything else was allowed.
She enjoyed all of it immensely and for the most part so did I, although the tempura was a bit soggy. The best bit is still the show the chef puts on for the main course, arriving at the hibachi grill with his little trolley, a cheery greeting in Japanese and a repertoire of banter and knife work.
It's all undeniably good fun; I particularly liked the Vesuvius he made from onion rings, the steam shooting up into the extractor hood in a very dramatic way.  The food comes at you fast and fresh and with around eight people seated at the table it's a good icebreaking social experience and ideal for groups on a night out.
Of course it's not 100% authentic in its food and connoisseurs of Japanese may well look down their noses, but at £30 a head you really can't complain and Benihana's is a formula that has proved successful for a reason.
Incidentally, Rocky's son Steve Aioki didn't go into the business, started with nothing, and is now the 11th highest paid DJ in the world. I thought this factoid would impress my guest and it did a bit. She then told me that the highest paid DJ in the world is Calvin Harris with $46 million in the bank, which made me rock back in my sensible shoes.
$46 million from playing other people's music? Now that's a party trick.