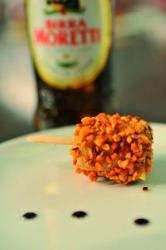 This is a rich dish that requires some skill and ideally some professional kitchen equipment, however experienced home cooks might improvise in order to achive similar results to those achieved by Massimo Bottura.
Ingredients:
400 g duck foie gras
2 l milk
30 ml Birra Moretti Lager
1 cinnamon stick
10 g cloves
30 g Noto almonds, bitter and sweet
30 d Piedmont hazelnuts
50 g sugar
2 cl water
1\2 vanilla pod
The peel of half an orange
Traditional extra-aged balsamic vinegar
Fleur de sel
Method:
1. Soak the liver in the milk, at 30 degrees temperature, for a couple of hours. Remove and dry.
2. Clean the liver, delicately separating the lobes and remove the connective tissue from the larger veins without ruining the meat. In the meantime, reduce the beer on the heat by 50%, before cooling it in a blast chiller.
3. Allow the cleaned liver to marinate in the beer reduction and the spices for 6 hours.
4. Remove from the marinade and allow all excess moisture to drip away. Mould it into a terrine, then insert it into a vacuum bag and cook in a Roner for around 35 minutes at 55°.
5. Remove from the Roner and cool in the blast chiller to 2 degrees, before allowing to rest for at least two days in the refrigerator. Boil the water with the sugar, vanilla and orange peel. Immerse the almonds and hazelnuts into the syrup, drain them, place them on a silicon mat and dust with fleur de sel. Place them in an oven until thoroughly crystallised (200° for a few minutes).
6. Use a hot knife blade, prepare by cutting the terrine into two parallelepipeds around 8 cm long, 4 wide and 1.5 high. Under pressure, cover the six surfaces of the liver with the sweet/salted almonds after inserting the vinegar inside the terrine, using a cinnamon stick. Finally, insert the stick of ice-cream into the opposite side.