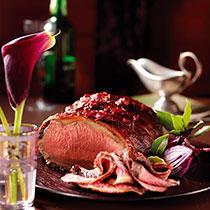 MeatMATTERS is an informative website aimed at consumers and the media. It provides information on all aspects of beef, pork and lamb. Its key messages are that red meat is a valuable part of a healthy balanced diet and can be used in a wide range of easy, enjoyable and nutritious meals.
Oven Temperature:  Gas mark 4, 180°C, 350°F
Cooking Time:  Between 40 and 60 minutes
Cooking Time Details:  Rare 20 minutes per 450g/½kg (1lb) plus 20 minutes; Medium 25 minutes per 450g/½kg(1lb) plus 25 minutes; Well done 30 minutes per 450g/½kg (1lb) plus 30 minutes
Ingredients:
Lean boned and rolled beef sirloin, rib or topside joint. (Allow100g (4oz) per person for boneless and 225g (8oz) per person for bone-in joints)
900g Potatoes, peeled and cut into large chunks
3 Red onions, peeled and halved
8-10 Garlic cloves, with skin on
1tbsp Oil
150ml Port
4tbsp Cranberry sauce
1 tbsp Gravy granules
Method:
Preheat the oven. Weigh and calculate the cooking time for the beef. Place onto a rack in a roasting tin and open roast for the calculated time. Place the potatoes, onions and garlic cloves in a separate tray and drizzle with the oil (the quantity will serve about 6-8). Roast at the same time as the beef, or for slightly less time if cooking a large joint. After 30 minutes, remove the garlic. Squeeze the roasted garlic out of their skins and place in a saucepan. Add the port and cranberry sauce. Heat until the cranberry sauce has melted. Twenty minutes before the end of the cooking time, glaze the joint with a couple of spoonful's of the glaze. Repeat during the last 10 minutes. When the joint is cooked remove from the roasting tin and add 300ml (½pt) water or stock to the pan, stirring to remove any crispy bits. Pour the stock into the saucepan with the remaining glaze, bring to the boil and add the gravy granules. Heat for 1-2 minutes until the gravy is thickened.
Serve the beef with the roasted potatoes, port and cranberry gravy and seasonal green vegetables.
Nutritional Analysis per 100g / Per portion:
Energy 433kJ / 1338 kJ
Protein 9g / 27g
Carbohydrate 11g / 33g
of which sugars 4g / 11g
Fat 2g / 7g
of which saturates 0.7g / 2g
Dietary fibre 1g / 3g
Salt 0.2g / 0.5g
Iron 0.8mg / 2mg