Look ahead to the Bank Holiday and start planning a wonderful weekend with your family and friends. Whether sunshine or showers these delicious tuna steaks can be sizzled on the barbecue or you can take shelter inside and cook them on the grill. Marinate fresh tuna steaks in bottlegreen's aromatic lime cordial and olive oil before speedily cooking on either side. Serve with a spicy salsa of crunchy cucumber and red onion combined with fiery red chillis, coriander and zesty lime cordial to add some zing to this Mediterranean inspired summer lunch.
Mediterranean Seared Tuna Steaks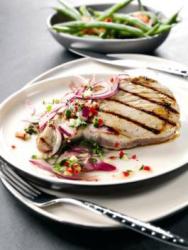 Serves 4
Ingredients:
3 tbsp bottlegreen lime cordial
3 tbsp olive oil
4 x 175-200g (6-7oz) fresh tuna steaks
1 red onion, finely sliced
1 fresh red chilli, finely chopped
1/4 cucumber, finely chopped
2 tbsp chopped fresh coriander
300g (10oz) fine green beans
4 tomatoes, deseeded and chopped
Salt and freshly ground black pepper
Method:
1. Put 2 tbsp of the bottlegreen lime cordial into a shallow dish with 2 tbsp of the olive oil. Season with a little salt and black pepper. Add the tuna steaks, turn them to coat, then cover and leave to marinate for about 15 minutes.
2. Meanwhile, make the salsa by mixing the remaining lime cordial with the red onion, chilli, cucumber and coriander. Season. Cover until ready to serve.
3. Cook the green beans in lightly salted boiling water for 3-4 minutes. Drain well and mix with the tomatoes and remaining olive oil.
4. Heat a char-grill pan or pre-heat the grill. Char-grill or grill the tuna steaks on a high heat for about 2 minutes per side – or a little longer if you prefer the tuna to be more thoroughly cooked. Serve with the green beans and salsa.